American network performance specialist Riverbed Technology has launched a family of appliances that improve quality of network connections between geographically disparate facilities like data centers or central and branch offices.
The SteelConnect devices - including physical and virtual WAN gateways, remote LAN switches and Wi-Fi access points - enable IT teams to build software defined wide area networks (SD-WAN) that can use hardened broadband connections alongside the traditional MPLS lines. They offer functionality like path selection, bandwidth management and encryption, all provisioned with a single click.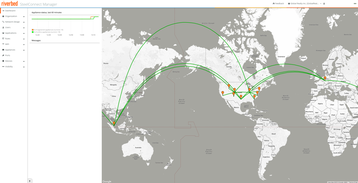 Making broadband better

According to Gartner, enterprise adoption of SD-WAN technologies is expected to grow from less than 1 percent today to 30 percent by 2019. Meanwhile IDC estimates that the worldwide SD-WAN market will grow from less than $225 million in 2015 to more than $6 billion in 2020.
Broadband networks are rarely used for WAN connectivity due to lower performance and reliability issues, but the emerging SD-WAN techniques can improve these to a point where a 'civilian' connection is perfectly suitable for non-critical enterprise data.
The SteelConnect family was built with technology Riverbed obtained from the recent acquisition of SD-WAN specialist Ocedo, along with elements of its own SteelHead appliance.
SteelConnect introduces a virtual network overlay that enables something the company calls 'application-defined networking', when the appliance decides what kind of network to use.
With SD-WAN, IT administrators can enact policies that do things like send all video application traffic over the highest-capacity circuits; send software updates over Internet broadband circuits; or send all business traffic over secure VPNs.
SteelConnect is also suitable for hybrid environments that host some applications in the public cloud and need to deliver them to a remote location. Riverbed announced AWS as the first supported provider, with Azure compatibility to be added later this year.
Paul Griffiths, technical director at the Advanced Technology Group within Riverbed, told DatacenterDynamics that the key advantage of SD-WAN is simplicity.
"If you try and deploy an environment today which has multiple wide area networks, and then try and control which application will be delivered over which network, manage Quality of Service, security mechanisms – both from a firewall point of view but also the encryption across the WAN – you have to go through what I would describe as 1990s technology," he said.
"You have to have a fairly broad IT team so that it understands a whole selection of routing, switching and bandwidth management tools and products. And when you manage that infrastructure, you have to go and individually set up each router, each firewall, generally speaking via a command line.
"SD-WAN offers zero-touch deployment and rapid, agile provisioning and orchestration capabilities. It really brings networking into the 21st century."
SteelConnect is available today through Riverbed's Early Access Program, with general availability expected in autumn 2016.