Rich Brueckner tragically and unexpectedly passed away on Wednesday, May 20, 2020.
A huge figure in the HPC community, Brueckner was known as "the guy in the Red Hat," with his distinctive look a fixture of community gatherings, conferences, and interviews.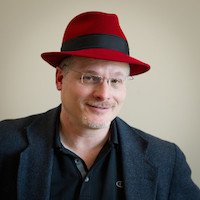 Brueckner, born in Milwaukee, Wisconsin on April 12, 1962, found his first job in the HPC industry at Cray Research, where he crafted technical documents for internal use as well as for customers.
Over the next 25 years, he worked at companies like Silicon Graphics and Sun Microsystems, before shifting to journalism in 2010. After acquiring InsideHPC that year, he quickly become of of supercomputing's leading reporters, publishing thousands of news pieces, features, and detailed interviews over the following decade.
He also founded InsideBIGDATA, developing it into an indispensable machine learning publication, and filmed his own documentaries to raise money for animal shelters.
He will be remembered not just for his work, but his irrepressible energy, warmth, and boundless curiosity.
"His Midwest roots kept him grounded and easily approachable, which is why he was loved by so many. One thing that always shone through with Rich is his genuine interest in people regardless of their background – our Rich was no snob," Dan Olds and Timothy Prickett Morgan said in an obituary on InsideHPC.
"Rich was one of those guys who you called 'solid.' This means that you knew he'd always be there if you needed an answer to a question, wanted to discuss a new business idea, or just needed to talk to a friend."
Brueckner is survived by his son, Logan; and his mother, Patricia Brueckner.
On Tuesday, June 2, from 4-6pm EST, friends in the community will gather virtually to remember Brueckner. "Please join Rich's friends and colleagues from the HPC community to celebrate the life of a most extraordinary man, the man in the red hat," the post states.
The podcast RadioFreeHPC, which Brueckner helped found, have asked for those with stories or remembrances to share them at podcast@RadioFreeHPC.com to be included in an upcoming show celebrating his life.