Research by IHS Markit suggests that data center products based on designs from the Open Compute Project (OCP) – an open source hardware and software initiative launched by Facebook in 2011 – were responsible for at least $2.56 billion in revenue in 2018.
The study, sponsored by the Open Compute Project Foundation, found that most OCP sales involved servers, storage and networking equipment.
This number doesn't include the largest OpenStack users – the members of the foundation's board like Facebook, Goldman Sachs, Intel, Microsoft and Rackspace.
"We are committed to continued improvement in the entire ecosystem to support the future growth," said Rocky Bullock, CEO of the Foundation.
Slow and steady wins the race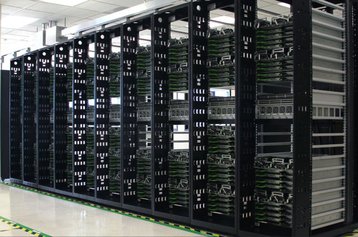 The Open Compute Project was established in 2011, when Facebook was redesigning its data center in Prineville, Oregon. After the facility was complete, the company decided to openly share standardized infrastructure designs for components such as compute nodes, storage servers, network switches and even specialized racks.
This has served two purposes: it moved the market in a new direction, focused on the needs of hyperscale data center operators, while simultaneously driving down the costs of specific equipment purchased and used by Facebook.
Since then, the non-profit organization has attracted more than 200 corporate-level members, including Cisco, HPE, Huawei, IBM, Lenovo, Nvidia, Rittal and Schneider Electric.
OCP is sometimes criticized for failing to make a serious impact on the infrastructure market – while you can purchase Open Compute equipment, actual enterprise deployments, and colocation facilities supporting its 21-inch racks, are few and far between.
The study by IHS Markit aims to counter this point: it suggests that OCP has been enjoying a steady rise in popularity, and the overall market for open infrastructure is growing.
The research firm interviewed OCP members, suppliers and service providers, and analyzed existing market data. According to its findings, 2017 revenue from OCP hardware and software for non-board members totaled $1.16 billion. Last year, this number had more than doubled to $2.56 billion.
This means OCP equipment from non-board members is now responsible for nearly one percent of the overall market for products like servers, storage arrays, switches, racks and PDUs.
HIS Markit added that the market for OCP gear –once again, with the exception of OCP foundation board members – is expected to surpass $10 billion by 2022.
The firm also projects that by 2021, telco spend on OCP equipment will surpass hyperscale spend, creating demand for new product types, like disaggregated cell tower equipment – something that OCP is already working on as part of its Telco Project.
"The market ecosystem for OCP-certified equipment continues to mature, with more diversity for increased choice and an expanded supply chain allowing more tier-two CSPs, telcos and enterprise consumers to participate," said Cliff Grossner, executive director for cloud and data center research practice at IHS Markit.
"A notable difference from last year's study was the shift from direct factory purchasing to suppliers with local support, as additional market segments increased adoption.
"OCP equipment market drivers such as serviceability, disaggregation and the flexibility to add new features took on a greater importance this year, which typically happens when a market matures and more mainstream buyers deploy," he added.
The the full results of the research will be release at the upcoming annual OCP Global Summit in San Jose, California, in March.