US cloud computing giant Amazon plans to invest in two Italian data centers in the next 12 months, according to a pair of anonymous sources quoted by Reuters.
The news agency said the plans involve construction of the facilities on the sites of retired Enel power plants to support its cloud services division. The utility provider is controlled by the Italian government.
The two data centers will be introduced in order to develop new fiber-optic infrastructure along Enel's existing electrical transmission lines, thus improving broadband connectivity in the country.
Matteo Renzi, the Italian Prime Minister, announced in April a strategy to use the transmission lines to speed broadband rollout across the country, the Reuters article said.
In total, the rumoured investment is expected to cost about €500 million ($550 million). It would also see the development of a 645,000 sq ft storage and logistics center in Lazio, outside Rome, for a figure of €150 million ($165 million).
An additional development center to support development of Amazon's Alexa artificial intelligence speech learning tool will be constructed in Turin, Italian media outlet Unita reports.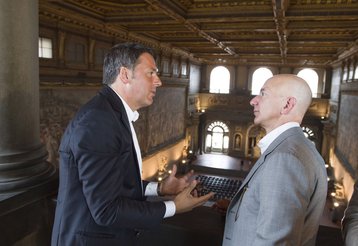 Giving back
The source quoted by Reuters' Giulia Segreti said the plan will seek to establish the southern European nation, the EU's fourth-largest economy, as a leader in digital commerce. Small and medium-sized businesses in the country lag behind others in Europe, the source added.
Francesco Starace, Enel's chief executive, has previously said that Amazon is among companies interested in purchasing three of its old power stations, as reported in Corriere della Sera newspaper.
Renzi met Amazon founder and chief executive Jeff Bezos in Florence on Friday, July 22.
Government advisor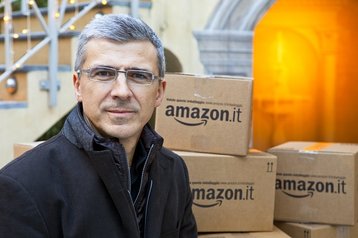 Meanwhile, Business Insider highlighted the possible significance of Diego Piacentini's appointment to a position working pro-bono at the government's digital technology office. He was formerly senior vice president of worldwide retail at Amazon.
At the time of the announcement, Piacentini said he wanted to "give back to the country" where he was born and lived for 40 years, Eugene Kim writes. The article pointed out that it remains unclear if he had any role in the purported investment, with Amazon not immediately available for comment.
Amazon was recently placed under investigation for tax evasion in Italy, the company's chief for Italy and Spain told Bloomberg in March 2016.
Francois Nuyts said Amazon pays all applicable taxes and is cooperating fully with the Italian authorities.
Amazon is second only to eBay in its retail market share in Italy, according to research company Euromonitor International, with a 14 percent share to eBay's 24 percent.