Microsoft is reportedly planning two new cloud regions in Germany, according to local business publications WirtschaftsWoche and Handelsblatt.
The move would mark a turning point for the company, that, in response to growing fears in German society regarding data security, signed a cloud partnership with Deutsche Telekom subsidiary, T-Systems, in 2015. While Microsoft owned the data centers in Frankfurt and Magdeburg, T-Systems acted as a trustee for the data.
Comply or die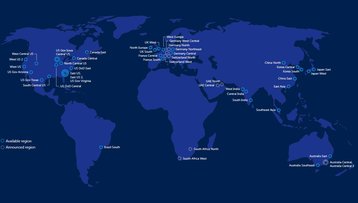 Current German data protection laws require that all German citizens' data must be stored within the country's borders.
Despite allowing Microsoft to offer its cloud services domestically and satisfying legal requirements, the deal with T-Systems proved to be costly, while failing to make these services more popular with German customers.
According to Handelsblatt, 'Microsoft Cloud Deutschland' (MCD) had cost more than €100m ($123m). Now, it looks like Microsoft is ready to offer infrastructure in Germany under its own management.
Having declined to disclose the locations of the latest regions or a timeline for their launch, the company told ZDNet that the facilities will provide customers with the option of storing their data exclusively on German soil.
Additionally, the company is planning to launch new cloud regions in Switzerland and in the United Arab Emirates (UAE), as part of a twelve-region worldwide expansion, with plans to bring its region count to 50 – more than any other cloud provider. For comparisons' sake, AWS currently has 18 distinct geographic regions, Google has 15 and Oracle has 11.
Microsoft's Swiss regions, as is the company's practice, will comprise at least two data centers each, and will be located in Geneva and Zurich. And, marking Microsoft's first entry into the Middle East, the UAE regions will be located in Dubai and Abu Dhabi.