Google in 2018 considered acquiring videoconferencing company Zoom, The Information reports.
Ultimately, the company decided against acquiring the company - which has seen its usage skyrocket due to the Covid-19 pandemic - and chose to focus on competing with it.
The one that got away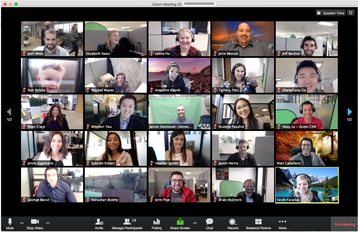 Back in 2018, with "several thousand" Google staffers using Zoom instead of Google's own Hangouts Meet product, the idea to purchase the company began to gestate among Google Cloud employees.
The company went as far as evaluating a "reasonable" price for Zoom, and calculating the cost of running the service on Google Cloud, as well as evaluating other potential videoconferencing acquisitions. But the discussions did not get much further, and the company decided to instead double down on its own platform, now known as Google Meet. Google told The Information that it never "seriously evaluated" the acquisition - and it is unclear whether Zoom would have agreed to the purchase, with the company reportedly having turned down multiple acquisition attempts by rival Microsoft.
The spread of the Covid-19 virus, and resulting nationwide lockdowns, has highlighted the importance of videoconferencing platforms. But while all such services have experienced record growth, Zoom has been the standout success story - gaining the most users, and the most publicity.
While Google Meet has added millions of new users, the brand recognition of Zoom may be hard to compete with. The New York Times reports how, in late March, Google's chief business officer, Philipp Schindler, was videoconferencing with thousands of colleagues using Google Meet.
There he answered a question about why Zoom was so successful, despite Meet existing for years. While Schindler tried to answer the question, his young son walked in and asked if he was using Zoom, before proceeding to talk about how much he and his friends loved using Zoom.