A semiconductor fab cleanroom that caught fire in March has been cleaned, with production expected to resume within a month.
It is not clear when the Renesas Electronics facility will reach full production however, with equipment supply bottlenecks meaning it could take longer than four months.
A clean cleanroom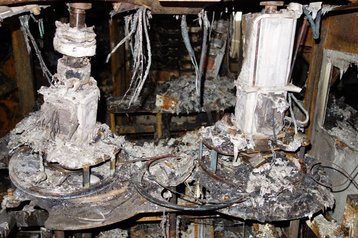 The N3 Building was ablaze for some 5 1/2 hours on March 19, after plating equipment caught fire. This damaged 23 machines, as well as water supply and air conditioning.
"The operation of the N3 Building cleanroom has resumed from 21:00, 9 April," Renesas said in a statement.
"In addition to the cleaning of the floor, underfloor, walls, and above and beyond the ceiling of the cleanroom, we have completed the decontamination of the cleanroom by replacing the air filters installed on the ceiling of the cleanroom."
The company added that it was "sincerely thankful for the rapid assistance [it] received from as many as 1,600 people a day from partner companies, equipment manufacturers, materials suppliers, and construction companies.
"Following the operation resumption of the cleanroom, we aim to resume production within one month of the occurrence of the fire as initially targeted. We will make an announcement once the production has restarted."
Earlier this month, the company admitted it could take between 90 to 120 days to return to full capacity, and warned that it could be even longer if equipment is delayed.
The facility helped supply the automotive market, which had already expected to produce 1.5 million fewer vehicles due to an acute chip shortage.