California-based RagingWire Data Centers and its parent company NTT Communications are set to build a million square foot, 80-megawatt data center campus in the Texas 'Telecom Corridor'.
The new Garland campus in North Texas is similar in size to the billion dollar Facebook facility currently under construction in Dallas-Fort Worth. Building on the 42-acre site started on September the 5th.
The project has been supported by local utility provider Garland Power and Light and local authorities at the City of Garland, which have provided incentives, planning assistance and consultancy, according to the Dallas Business Journal. Details of the incentives and tax breaks were not available.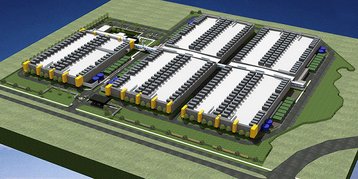 Growing in Texas
The Garland campus will double RagingWire's holdings throughout the United States. The company has nearly one million square feet of data center space in operation, providing 80 megawatts in campuses in Northern California and Ashburn, Virginia.
Dallas-Fort Worth is the fourth largest market for data center space in the United States and, according to the Dallas Business Journal, property experts say the region will continue to win big data center deals as major players look to enter the market.
Currently, North Texas is home to 49 data center providers and is expected to grow about 13 percent per year, according to 451 Research.
An independent evaluation of the US market concluded that Dallas-Fort Worth was the best place to open another data center, according to Doug Adams, RagingWire's senior vice president and chief revenue officer.
"With our site across the street from Richardson and just four miles from the Digital Realty campus, we are an ideal location for businesses requiring a data center footprint in the middle of the United States," he said.
RagingWire expects to begin leasing the campus, which includes custom data center buildings, retail colocation cages and wholesale build-to-suit vaults, in September 2016.
"We are thrilled to be entering the Dallas data center market, one of the top markets in the United States," said RagingWire chairman and CEO George Macricostas, who thanked the State of Texas and the City of Garland for their 'tremendous support'. "Together we will expand and enhance the data center sector in the region."