American manufacturer of data center racks and cabinets DAMAC has been acquired by Maysteel Industries, a specialist in sheet metal based in Allenton, Wisconsin.
Maysteel operates across a wide range of industries, but previously didn't sell products specifically for data centers.
The financial terms of the deal were not disclosed.
Growth industry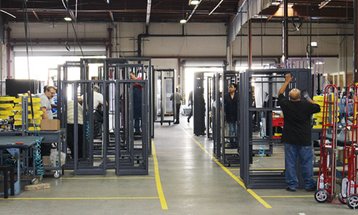 DAMAC, based in La Miranda, California, has been making data center products since 1983. It manufacures server cabinets, wallmount racks, seismic and thermal management products, power distribution equipment and cable runway systems. It was previously a portfolio company of Chicago-based Prairie Capital.
Maysteel makes a variety of metal enclosures, but nothing designed specifically to meet the requirements of data center operators. It runs manufacturing locations in Allenton, Wisconsin and Monterrey, Mexico.
"This transaction is an important step in our efforts to continue to transform Maysteel by broadening its geographic footprint across North America and leveraging DAMAC's existing presence in Europe," said Kevin Matkin, chief executive officer of Maysteel.
"In addition, both Maysteel and DAMAC offer customized metal fabrication solutions in adjacent markets that each can assist in supporting. As the data center industry continues to evolve towards larger hyper-scale data centers, operators are demanding customized, alternative designs and technologies to drive economies of scale.
"The strength of DAMAC's customer relationships and its growth trajectory are impressive, and we look forward to building on that momentum to bring even more comprehensive solutions to current and new markets/core segments."
Maysteel itself recently changed ownership, having been sold to Littlejohn Capital by Revolution Capital Group.
"We are confident that Kevin and his team will leverage the combined companies' metal fabrication technologies and engineering expertise to grow DAMAC into a key player in the worldwide engineered data center solutions market," said Angus C. Littlejohn Jr., founder and chairman of Littlejohn Capital.