Virginia quarry company Luck Stone Corp. is planning a new data center campus in the Ashburn area of Loudoun County.
BizJournal reports the company has applied to rezone some of its Ashburn landholdings for up to 2 million square feet (185,800 sqm) of new data centers.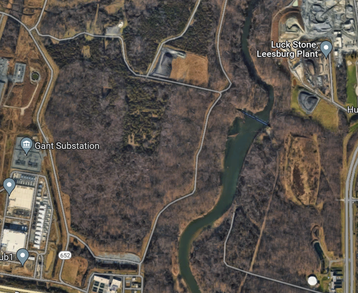 Luck Stone submitted its application to Loudoun County earlier this month to rezone about 98 acres for the development of four data centers. The site sits just west of the company's Leesburg Plant, between Cochran Mill Road and Sycolin Creek.
Luck Stone's filed drawings indicate that 500,000 sq ft (46,450 sqm) new data center space would be built in the initial phase. A second phase would follow between 2030 and 2040, with a full build-out of up to 2 million sq ft.
Luck Stone has operated a quarry at the site since the early 1970s. When the company first submitted a request for a pre-application last year, Jon Riley, the general manager of Luck Real Estate Ventures, said the company had been approached by "more than one" data center company for this piece of its property.
The site is in the area where Dominion last year said was facing a severe capacity crunch. Luck Stone's application reportedly proposes to advance in phases starting in 2026, the date from which Dominion expects capacity in the area to be less constrained.
Last year SDC Capital Partners filed for a data center campus near Luck Stone's Belmont quarry to the north of the Leesburg plant. The company is planning a 111-acre data center development known as The Belmont Innovation Campus.