A new Quantum Optical Ground Station (OGS) is being installed at a facility outside Dundee, Scotland, to help research into Quantum Key Distribution (QKD) encryption technology.
The Dundee Satellite Station (DSS), located at the Errol Aerodrome, will install a new ground station to enable research teams to connect to satellites with QKD communication payloads.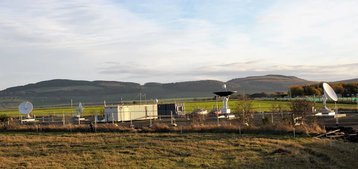 The Hub's OGS (HOGS) will use a reflective 70cm telescope to track the low-Earth orbit satellite. When not in operation, HOGS will be protected from the elements by a robotic dome cover.
The project is a joint venture between DSS and Hub researchers at Heriot-Watt University. The research facility will be developed as part of the Quantum Communications Hub project, funded through the UK National Quantum Technologies Programme. It aims to deliver quantum security at all distance scales, including intercontinentally via satellite.
Once operational, the HOGS will be used by researchers directly involved in the Hub's satellite R&D program from the University of Bristol, Heriot-Watt University, Science and Technology Facilities Council's Rutherford Appleton Laboratory, University of Strathclyde, and University of York. Other UK researchers will be invited to work on-site.
Dr. Ross Donaldson from Heriot-Watt University led the site proposal. He said: "I am thrilled that the Heriot-Watt University and Dundee Satellite Station Ltd. partnership was chosen to host the Hub's Optical Ground Station. Heriot-Watt University has world leading expertise in quantum communications and the enabling technologies behind it. The addition of HOGS will place Heriot-Watt University at the forefront of satellite quantum communications research, enabling engagement with future missions from national and international teams."
Originally a WWII RAF airfield, the facility operated as the Dundee Satellite Receiving Station (DSRS) at the University of Dundee for more than 50 years, hosting ground station equipment to support various research and climate, and meteorological missions.
The UK government's Natural Environment Research Council (NERC) announced it was canceling the site's funding in 2018, and it closed in 2019. Neil Lonie and Paul Crawford, former staff at the DSRS, subsequently acquired all the station's assets and set up a new company, Dundee Satellite Station Ltd.
Dundee Satellite Station's technical director, Dr. Paul Crawford, said: "We are delighted that our joint venture with Heriot-Watt University was selected for the Optical Ground Station and look forward to working with all of the Quantum Hub members in future on the many research opportunities this opens. Dundee is a unique ground station in that we developed and operated in an academic environment for over 40 years and actually designed and built our own systems, so we are natural partners for any R&D focused projects such as this."