Quantum computing company IonQ is acquiring the assets of Canadian quantum startup Entangled Networks, marking the company's first acquisition.
The New York Stock Exchange-listed company this week announced its acquisition of the operating assets of Entangled Networks Ltd., a Toronto-based company focused on enabling computation across multiple distributed quantum processors.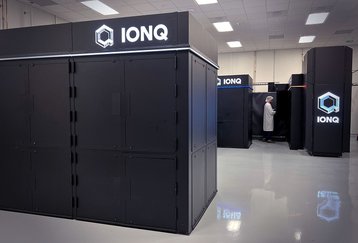 Founded in 2021, Entangled provides optical components, software, and engineering support for scalable multi-QPU quantum computing solutions. The company had previously secured $1.1 million in funding from the crowdfunding site OurCrowd.​
Terms of the acquisition were not shared.
"We believe IonQ is a clear market leader, both commercially and in system performance, which is why our team is so excited to join forces," said Aharon Brodutch, co-founder and CEO of Entangled Networks. "We are ready to work on amplifying IonQ's quantum computing solutions to bring even more powerful applications to our customers."
The Entangled Networks team will join IonQ to launch IonQ Canada.
"Partnering with Entangled Networks furthers our goal of making IonQ the world's best performing quantum computing company," added Peter Chapman, IonQ's president and CEO. "In acquiring the Entangled Networks assets, IonQ will benefit from not only some of the top experts in quantum architecture, but also from software tools that we intend to use to drive substantial speed-ups in our system performance. We are also excited about the opening of IonQ Canada."
Oxford Ionics raises £30 million
This week also saw quantum computing startup Oxford Ionics announce that it has raised £30 million ($36.4m) in Series A funding.
The round was led by Oxford Science Enterprises and Braavos Investment Advisers. Lansdowne Partners, Prosus Ventures, 2xN, Torch Partners, and Hermann Hauser (founder of ARM) also participated.
Founded in 2019, Oxford Ionics focuses on trapped ions using a proprietary control system instead of lasers. The funding will be used to further Oxford Ionics' expansion with the hiring of people in roles across the company's functions. The company has previously raised around £7 million.
Dr. Chris Ballance, co-founder of Oxford Ionics said: "If we're to identify and unlock the true power and potential of quantum computing we need to crack the critical issues that are holding it back – scalability, integration, and performance. Our unique trapped-ion approach has been developed to address all three. At Oxford Ionics, we're focused on building technologies that will help quantum computing finish the race, not just take small, incremental steps. Our latest round of funding, and the knowledge, insight and expertise of our new investors bring us even closer to this goal."
The company has previously partnered with Infineon Technologies to build high-performance and fully integrated quantum processing units (QPUs).