QTS has moved the first customers into its new Ashburn data center, making the first hall in a planned 32MW facility available in just 10 months. 
The latest QTS facility in Virginia is a three-story data center, reflecting the high cost of land in the world's largest data center hub. The new building will eventually have around 180,000 square feet (17k sq m) of data center space. At present, 8MW has been brought on stream.
Table stakes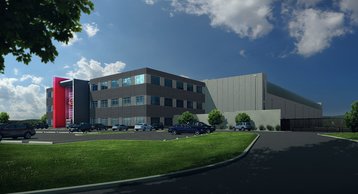 "It's all about location, economics, scale and speed," said Tag Greason, chief hyperscale officer at QTS, in an interview with DCD. "If you can't do all four you don't have a place at the table."
As a wholesale colocation provider in the hot Northern Virginia market, QTS focuses on hyperscale customers, as well as hybrid colocation users at large enterprises - and the two sets of customers are closer together than they once appeared.
The largest cloud giants will build their own hyperscale data centers for their own established applications, but will buy some wholesale colocation from operators like QTS in small increments for DevOps testing and other functions. 
QTS wants to approach "owner economics" for hyperscale customers, in other words providing them with data center space in units of around 3MW, for little more than the cost of building that capacity in-house. This puts pressure on margins - and wholesale colocation has smaller margins than retail. 
The new QTS facility is designed to have four 2.5MW halls on each of its three floors. Before bringing in customers, the company had to build and pay for the whole shell, and is now populating the facility one quadrant at a time. Its first wholesale customer has taken a whole hall and the other two floors in that quadrant (the halls above it) will be next to be built out - largely because cooling for the three floors has to be built at the same time,  as it relies on convection over the three stories.
"It's not capital-efficient to build it all at once," Greason said. 
On the same site, QTS is already clearing land for another facility half the size of the latest building, while a nearby plot could hold another three of the half-size 16MW data centers.