QTS Realty Trust has opened a massive data center on the site of the former Chicago Sun-Times printing plant.
Initially, the facility will offer 133,000 sq ft of raised floor space and up to 24MW of power. QTS can add another 213,000 sq ft of space and 32MW of power in a second building, as reported by DCD in March 2016.
This is the first QTS facility in Chicago and it will serve as the company's Midwestern hub, providing "highly secure IT infrastructure services for enterprise and government organizations."
Strong bones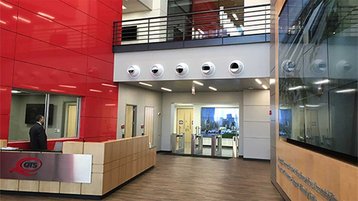 The Sun-Times ended its printing operations at the South Ashland Avenue plant in 2011, after 12 years in operation. QTS acquired the land and a 317,000 sq ft building for $18 million in 2014. The newspaper now prints from Chicago's Freedom Center.
"The former Chicago Sun-Times building has great bones," Dan Bennewitz, QTS' chief operating officer, said. He added that the vast halls previously occupied by heavy printing presses meant the company did not have to do a lot of "complex development."
Cook County ring
The site sits adjacent to Chicago's downtown corridor, a location that will allow QTS to serve the region's financial services, healthcare, technology and packaged goods industries.
No anchor tenant has been announced, though QTS stated in March that it has several customers already lined up, and pointed out that its most recent data center project in Dallas, Texas still has not identified a client that could be referred to as an 'anchor tenant' and yet the raised floor space is now more than 50 percent full.
Chicago has long been a business hub and a center for technology service providers, due to its vast fiber network infrastructure, reliable and abundant energy, and business-friendly environment.
QTS' carrier-neutral data center offers access to long-haul fiber networks for enterprises in Chicago's Central Business District. It also connects with a dark fiber ring via the Forsythe Data Center colocation facility that operates the Cook County network.
White space to grow
To complete the project, QTS worked with data center construction company Mortenson, based in Minneapolis, and consulting-engineering agency ESD, based in Chicago.
According to QTS, the facility can achieve a power usage effectiveness rating of 1.17, in part due to its use of a Kyoto Wheel thermal cooling system, which rotates within the supply and exhaust air streams of an air-handling system. Cooled air is then circulated around the entire data center.
Bennewitz said QTS has ensured there is space to grow the business operations if the data center proves successful, and has eyes on the 30 acres of land around the building that it owns.
The company said earlier in 2016 that it plans to apply for a property-tax abatement. It has in the past redeveloped brownfield sites including for its Atlanta-Metro, Dallas-Fort Worth and Richmond, Virginia data centers.