QTS Realty Trust has achieved LEED Gold Certification for Phase 1 of its Dallas-Fort Worth data center, which opened in October 2014. It's the third LEED-certified facility for the data center provider, which also operates two other LEED Gold locations in Atlanta and Richmond, Virginia. QTS, based in Overland Park, Kansas, owns and operates 12 data centers across eight states in the US.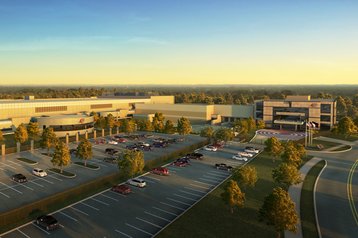 The Leadership in Energy and Environmental Design (LEED) Green Building Rating System was developed by members of the US Green Building Council. The system is a voluntary national standard for the construction and operation of sustainable buildings. QTS said it achieved 70 points on the LEED certification scale, qualifying the Dallas-Fort Worth data center for the system's gold standard – its second-highest honor.
During the data center's construction, QTS said it recovered over 4.7 million pounds of materials that were either reused or recycled off-site. In addition, the facility used low-emitting materials where possible and improved energy performance for lighting and HVAC. The data center also uses air- and water-cooled chillers located in a central utility building – adding "increased redundancy and energy efficiency throughout the facility," QTS stated.
QTS' Dallas-Fort Worth data center spans a 40-acre campus that was formerly a semiconductor manufacturing plant. The 700,000-sq ft facility currently has 230,000 sq ft of raised floor data center space and can expand up to 1.3 million sq ft.
"Securing LEED Gold certification for our Dallas-Fort Worth data center is a significant achievement, and one that could not have been attained without QTS' top-down approach to environmental stewardship," said Travis Wright, site director for QTS, in a press statement.
"We are committed to increasing sustainability and incorporating green initiatives not only during construction, but throughout our operation process," he added.