US wholesale data center company QTS Realty Trust is offering 'HyperBlocks,' two megawatt deployments that can be added to any of its larger data center locations across the US in 120 days or less.
It also revealed that it had set up a HyperBlock for "one of the world's largest cloud service providers" at its Irving, Texas data centers within 60 days of signing the deal.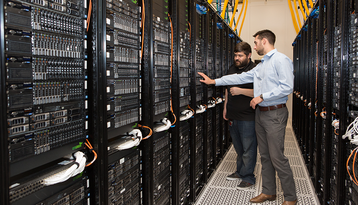 A different kind of block chain
"With a proven track record delivering multi-megawatt deployments to high-growth cloud and SaaS companies, QTS is uniquely positioned as a hyperscale service provider," Brian Johnston, QTS CTO, said.
"Our ability to rapidly deliver strategic, incremental capacity is matched only by our cultural commitment to operational partnership and long-term customer relationships."
QTS said that its rationale for the HyperBlocks, which can scale to multiple Blocks, was that the company has spotted a trend towards hyperscale companies taking multiple small deployments over time to reduce risk. 
Kelly Morgan of 451 Research said: "Rapid cloud adoption has meant that cloud providers and Internet-based companies need data center space, power and network connectivity quickly – in many cases more quickly than planned.
"QTS' new two megawatt HyperBlocks and the scale of its mega centers target this need for rapid, flexible capacity and should enhance QTS' appeal for hyperscale requirements."
In addition to the unnamed cloud company, QTS said that it has delivered over eight megawatts for four different customers in one, two and three megawatt blocks over the past 18 months.