US wholesale data center company QTS Realty Trust has started building a huge data center campus in Ashburn, Virginia.
The first phase of the site, built adjacent to QTS' existing Vault campus in Dulles, will provide just 4 megawatts of sellable capacity, but the campus is eventually expected to ultimately support a total of more than 700,000 square feet (65,032 sq m) of raised floor capacity and 140MW of power.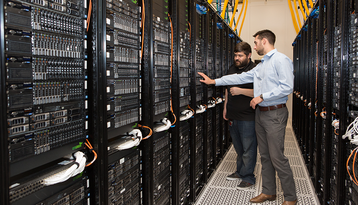 Growing to meet demand
Phase 1, set on 24 acres of land QTS bought for $17 million in Q3 2017, is expected to be completed by mid 2018. Of the 4MW, QTS has pre-leased 2.2MW to a global health insurance provider.
The pace of development of future phases on the 24 acres and another 28 acres QTS acquired for $36m this quarter will depend on how much demand the company sees for the campus.
"We are excited to have additional sellable capacity in a strategic QTS market to expand our ecosystem of more than 130 customers currently supported within our Northern Virginia footprint," Chad Williams, chairman and CEO of QTS, said.
The company is also thought to be nearing a deal to buy some 281 acres of land in Loudoun, Northern Virginia, with the Commonwealth of Virginia's northern region remaining the largest data center market in the US.
In announcing the new data center campus, QTS additionally revealed further land purchases across North America. It has acquired 84 acres of land in Phoenix, Arizona for $25m and 92 acres of land in Hillsboro, Oregon for $26m.
Pre-construction work on the two sites is expected to be completed "in the coming months."
"Our announced development in Ashburn combined with new strategic optionality in Phoenix and Hillsboro, enhance QTS' ability to deliver scalable capacity solutions in the top US hyperscale data center markets," said Jeff Berson, QTS' CFO, said.
"The ability to extend our hyperscale growth strategy with a de-risked development plan is consistent with QTS' overall balanced approach to capital allocation."