Canadian data center firm has begun work on a second data center building on its campus in Lévis, outside Quebec City.
The company this week said it has started construction of Phase 2 at its first campus in Lévis. The development is reportedly a full year ahead of schedule.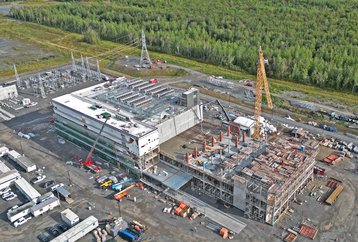 "Broad and increased adoption of AI, such as in self-driving cars and in biomedical and climate research, has skyrocketed demand for computing. Labor shortages have also accelerated the adoption of robotics and smart factories. The worldwide energy crisis, and the aggressive carbon reduction goals of many businesses, have added further demand pressure. As a result, we have decided to speed up our growth by beginning work on Phase 2 earlier than planned. It is now well underway," said Martin Bouchard, president of QScale.
"I thank our team for their outstanding efforts. Despite the many supply chain issues and other problems facing the industry, Phase 1 was on budget and on time. This gives us lots of confidence for the future expansion of QScale," he added.
QScale has retained the services of Houlihan Lokey, Scotiabank, and Desjardins Capital Markets for the next phase of construction.
QScale was founded in 2018 by Vincent Thibault, Dany Perron, and Martin Bouchard, and is designed for intensive workloads such as HPC, machine learning, and artificial intelligence. Bouchard previously founded software company Copernic as well as 4Degrés data centers, which was sold to Videotron in 2015 before Vantage bought the facilities in 2019.
Construction started on the company's first campus (known as QScale Q01) in Lévis last year, with the first phase of delivery scheduled for November 2022. Phase 1 will offer 12MW across 40,000 sq ft, while Phase 2 will double the footprint. At full build-out across eight phases, the site will offer 98MW across 320,000 sq ft.
The company is planning a second facility in the Ecoparc de Saint-Bruno-de-Montarville, Montreal, in the future. QScale plans to place greenhouses on its campuses and use the excess heat for agriculture.
More in Construction & Site Selection