In IonQ, D-Wave, Rigetti, and Quantum Computing Inc., there are now a number of publicly-listed pure-play quantum computing companies. Honeywell also breaks out earnings for its Quantinuum unit.
After some delays, all the companies have posted quarterly earnings results for Q4 2022, giving a full picture of the state of quantum computing in 2022.
All the companies continue to post regular losses, though some are seeing increasing revenues as technologies improve and more customers are secured.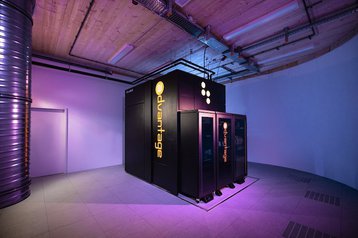 D-Wave: Ends the year with $50 million loss, secures $50 million loan
After delaying its earnings report slightly, D-Wave's Q4 2022 revenues were $2.4 million, up $700,000 compared to Q3 but flat compared to Q4 2021.
Net loss for the fiscal 2022 fourth quarter was $12.5 million, compared with $13.8 million in Q4 2021. Adjusted EBITDA for the quarter was negative $14.5 million, compared with a negative $9.3 million in the same period in 2021.
Total revenue for 2022 was $7.2 million, up $894,000 on 2021. Net loss for fiscal 2022 was negative $51.5 million and Adjusted EBITDA for the year was negative $48 million, compared to negative $35.7 million in 2021.
"We believe our fourth quarter and 2022 year-end results reflect a clear signal: companies are rapidly embracing today's quantum technology solutions to drive competitive advantage, now. We believe that near-term quantum and quantum-hybrid applications are critical for navigating this complexity by helping solve businesses' most difficult computational problems," said Dr. Alan Baratz, CEO of D-Wave.
The company had 67 commercial customers in 2022, ten more than 2021.
D-Wave ended 2022 with $7.1 million in cash and subsequently raised $15.7 million via a Line of Credit with Lincoln Park Equity during the months of January and February.
Announced in these results, D-Wave has entered into a $50 million four-year term loan agreement with PSPIB Unitas Investments II Inc., an affiliate of PSP Investments. The initial advance under the term loan is $15 million with second and third advances of $15 million and $20 million respectively, subject to certain terms and conditions.
Guidance for 2023 suggests revenue in the range of $12-13 million and an expected Adjusted EBITDA less than negative $62 million.
IonQ: Earnings grow, more losses predicted for 2023
IonQ recognized revenue of $3.8 million for the fourth quarter, compared to $1.6 million in the prior year period.
Adjusted EBITDA for the fourth quarter was negative $13.3 million, compared to $8m in Q4 2021. Net loss for Q4 was $18.6 million, versus $74.1m in Q4 2021.
"IonQ had a fantastic 2022. We continue to lead our industry as the most advanced and well-capitalized public pure play quantum computing company in the world, and by a wide margin," said Peter Chapman, President and CEO of IonQ. "As we keep delivering against our technical roadmap, we expect our systems will continue to be the world's most powerful, allowing our customers to solve their most complex problems."
Across 2022, IonQ saw $11.1 million in revenue, up from $2.1 million in 2021. Adjusted EBITDA across 2022 was negative $48.7 million, compared to negative $28.4 million for all of 2021. Net loss for the full year 2022 was $48.5 million, versus $106.2 million in 2021.
For the coming year, IonQ expects revenue between $18.4-18.8 million and an Adjusted EBITDA loss of $80.5 million for 2023 as a whole.
The company said it is "confident" with its cashflow and believes it has "sufficient reserves to get to profitability" without needing to raise additional funds.
"While we have seen market conditions slow demand for certain technologies, even affecting some of our peers, IonQ shows no signs of slowing down," Chapman added. "Our financial outlook for the year predicts even faster growth than in 2022, as customers and prospects continue to show enthusiasm for and commitment to our industry-leading quantum computers and the quantum future as a whole."
During the earnings call, IonQ CFO Thomas Kramer said the company's recent for a second manufacturing facility and data center in Seattle was roughly a year ahead of the company's original plan.
"That is precisely because we are seeing a lot of interest in actually buying entire systems, which require us to be able to deliver very consistent units to spec that can be operated without having IonQ personnel on place to actually do it for them," he said. The company aims to begin selling systems to customers within the next 12-24 months.
Rigetti: more losses, new 84 qubit chip
For Q4 2022; Rigetti saw revenues of $6.1 million, compared to $1.8 million in the same period of 2021. Net loss for the three months was $22.9 million, versus to $14.1 million over Q4 2021.
"We have strengthened our executive and operational management team and have implemented steps designed to improve our focus and operating efficiency," said Dr. Subodh Kulkarni, Rigetti CEO. "This included reducing our workforce in order to focus the organization and our resources on nearer-term strategic priorities and preserve available cash resources.
For the year 2022, total revenues were $13.1 million, with a net loss of $71.5m. 2021 saw revenues of $8.2 million and a net loss totaling $38.2m.
Cash, equivalents, and available-for-sale securities totaled $142.8 million at the end of the quarter, and will drop to $65-$75m by the end of 2023. Rigetti said it anticipates the company will need to raise additional funding by late 2024 or early 2025.
Kulkarni said the company's next-generation 84 qubit chip, known as the Ankaa-1, had been internally deployed for testing this month. It will be made available to select customers in mid-2023 and externally in Q4.
Quantum Computing Inc.; two years from break-even
Quantum Computing Inc. which listed on the Nasdaq in July 2021, posted revenues for the whole of 2022 of $136,000, vs zero revenue in 2021.
Net loss for full year 2022 was $38.6 million, compared to a loss of $27.9m in 2021.
QCI aims to launch its second-generation quantum computer, Dirac-2, during 2023. The company estimates that it achieves an EBITDA break-even at roughly $30 million in annual revenue and projects cashflow break-even within 2 years.
Cash at year-end 2022 totaled approximately $5.3 million. As of March 27, 2023, the company's current cash totals $7.5 million.
QCI operates a data center in Hoboken, New Jersey.
Honeywell: Quantinuum sales flat, losses widen
While not a pure-play quantum computing company, Honeywell does break out results for its Quantinuum unit.
In its Q4 2022 results from February, Quantinuum posted a $42 million operating loss, doubling from Q4 2021. For the year the unit posted a $153 million operating loss, up from $62m across 2021
Quantinuum posted net sales of $1 million for Q4, and $5m for the year. This was flat from the $5 million in sales in 2021.