APAC logistics firm LOGOS and Pure Data Centres are to partner up and develop data centers across Asia Pacific.
The two companies this week announced the establishment of a partnership aimed at 'developing critical data center infrastructure across the Asia Pacific region.'
"There is an acute undersupply of mission critical data center infrastructure in Asia-Pacific and we are pleased to partner with Pure DC to increase the availability of these essential assets," said LOGOS' Head of Infrastructure, Frederic Devos.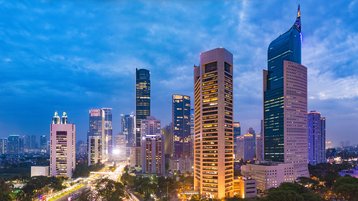 LOGOS owns, develops, and leases logistics properties across Australia, China, Singapore, Indonesia, Malaysia, Vietnam, India, and New Zealand. Its investors include fund manager ARA Asset Management and Canadian real estate firm Ivanhoé Cambridge.
"The agreement leverages LOGOS' best-in-class logistics platform and reach across APAC with Pure DC's leading hyperscale design and operational capabilities," the companies said in the announcement. "LOGOS' presence in 10 markets across APAC offers global and localized resources covering the entire real estate life cycle, coupled with certainty over new land acquisitions in supply-constrained markets. Pure DC brings an established data center platform and a robust customer network as it services the industry's most complex technical requirements."
Established in 2015 and backed by funds managed by Oaktree Capital Management, London-based Pure currently has more than 250MW of IT capacity under development in markets across Europe, Asia, the GCC, and Africa.
In April, LOGOS and Pure Data Centres announced plans to build a new data center in Jakarta, Indonesia. The 20,000 square meter (215,000 sq ft), 20MW project will be ready for customer operation in Q1 2022.
Pure DC's Chief Executive, Martin Lynch added: "We are delighted to expand our already successful relationship with LOGOS, who share our desire to be at the forefront of innovation and sustainability. This partnership will enable us to deliver the large-scale sustainable data centers customers demand, across the 10 geographies where LOGOS operates and holds assets. Combining this asset base with our excellent technical and operational know-how provides a greatly simplified and repeatable delivery solution for the world's leading technology companies as they seek to expand in multiple geographies across the region."
The companies also said they expect projects developed under this arrangement will help facilitate the rollout of new large-scale renewable power infrastructure in underserved markets.
Last month ESR Cayman shareholders approved the $5.2 billion acquisition of ARA Asset Management. ESR, another logistics-focused APAC real estate firm, has been increasing its own investments in data centers including in Hong Kong and Osaka, Japan.