The Rosen Center for Advanced Computing (RCAC) has added 104 GPUs to its Gilbreth cluster in West Lafayette, Indiana.
The expansion, which went into production last month, will increase the supercomputer's performance to 32 single-precision petaflops and increase its GPU capacity by 46 percent.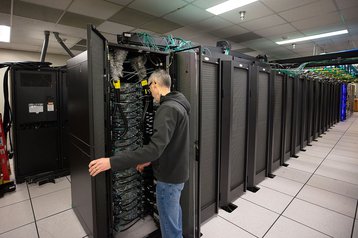 The Gilbreth cluster has received 104 Nvidia A100 GPUs, combined with the cluster's current Dell PowerEdge R7525 compute nodes with 0.5TB of RAM, two Nvidia A100 Tensor Core GPUs, and a 100Gbps HDR InfiniBand.
With this addition, the cluster should see its AI performance double.
"Since the summer of 2022, continued investment by Purdue IT has allowed RCAC to grow our GPU capacity available to Purdue researchers in students from 104 to 331 after this latest expansion – a two-and-a-half times increase," said Preston Smith, executive director for RCAC in Purdue IT.
"This investment in resources, and pricing structures that are better than do-it-yourself options will ensure that Purdue faculty have access to cutting-edge resources to ensure their competitiveness, while also benefitting from the community cluster program's professional maintenance and scientific support to ensure that their research is appropriately safeguarded, and they can focus on scientific outcomes instead of technology problems."
The Gilbreth cluster is housed at Purdue University in Indiana, US, and is optimized for communities running GPU-intensive applications. In the last year, the system has supported 98 research projects from 25 departments, including computer science, electrical and computer engineering, healthcare, energetics, and materials science.
For example, the cluster was used by Raju Hasti, Abhishek Navarkar, and Elihu Deneke to create an artificial neural network to analyze over a decade of data from power plants looking at the efficiency of steam generators.
Purdue University's RCAC is home to ten clusters, including Anvil, Negishim Geddes, Bell, Weber, Gilbreth, Scholar, Brown, Workbench, and Hammer. The Anvil cluster was installed in November 2021, offering a peak performance of 5.3 petaflops (double-precision) across 1,000 nodes, and is RCAC's most powerful cluster.