A large data center is being planned in Papillion, Nebraska, with the identity of the potential owner unclear.
Operating under the pseudonym of Fireball Group LLC, the company has proposed a data center known as "Project Wizard" on a 275-acre development site northwest of Highway 50 and Schram Road.
Sarpy County Economic Development Corp (SCEDC) and the mayor of Papillion declined to reveal the identity of the company, but Mayor David Black told the Omaha World-Herald that "anyone doing a data center of this size is going to be a well known company to anybody."
DCD has found clues suggesting that the unnamed operator is Google - with the lawyer representing the project having previously worked for the company on land purchases and data center developments in a similar manner.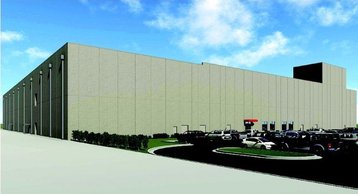 Totally wizard
More details are set to be revealed if, and when, the land acquisition has been assured, and utility deals have been signed.
Public records yield some information, though, with the executive director of the SCEDC, Andrew Rainbolt, noting that the data center "will be approximately the same size as the Facebook project" under development nearby.
Facebook's data center campus is set to span more than 2.6 million square feet (242,000 sq m) when it is completed - in phases - by 2023.
In addition to the Facebook site, Papillion is currently home to data centers owned by Fidelity Investments, Traveler's Insurance, Cabela's (now LightEdge) and TierPoint. Sarpy County also features a Yahoo/Oath/Verizon Media Group data center.
Meanwhile, the neighboring state of Iowa hosts Google's Council Bluffs data center campus. Just a 20 minute drive from the proposed Wizard data center, Council Bluffs is 25.11 km (15.6 miles) away, as the crow flies.
Fireball Group LLC's application for a certificate of authority for a foreign limited liability company in Nebraska (since Fireball is based in Delaware, it is counted as a foreign company) holds more clues that Google could be responsible for the new site.
Fireball's registered agent is Corporation Service Company, which is used by companies like Facebook and Google to set up LLCs when negotiating data center developments. Perhaps more revealing is the name that signed the document on behalf of Fireball: Denny Kwon.
Kwon, a partner at Wilson Sonsini Goodrich & Rosati, previously worked on behalf of Sharka, LLC and Jet Stream, LLC, companies set up with CSC with the purpose of helping negotiate tax breaks for data centers. The Sharka project in Midlothian, Texas, was ultimately revealed to be the work of Google.
More connections between Kwon and Google can be found in Florida. He was also involved with PHS Industries LLC, registered in Delaware and Florida. The company's Florida registration document lists Pia Victor, the Senior Corporate Paralegal at Google, who previously worked at Kwon's firm.
PHS Industries acquired small parcels of land in Jacksonville to be used by Google Fiber, but due to the service's limited success, the land was ultimately donated to the North Florida Land Trust.
Last year, Google's VP of Data Centers, Joe Kava, told DCD that one of the reasons the company obfuscates its identity during negotiations is that "we want to make sure that we're getting fair market pricing and we're not getting special Google pricing." The company's reputation as a hugely profitable business can also impact tax break negotiations.