A 100MW data center set to be built in Berlin, Germany, has gained planning approval.
German consulting and service company Prea announced this week that it has received approval to build a new data center in Berlin in partnership with Dutch developer Van Caem.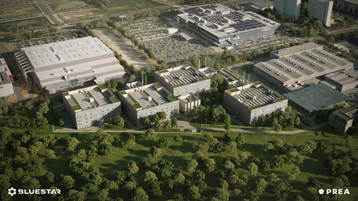 "With the building permit in place and the grid connection contract concluded with Stromnetz Berlin, all barriers have now been overcome. It's time to build the largest data center in Berlin. Our customers can rely on timely completion and first-class technology," said Gabriel Khodzitski, founder and CEO of Prea.
The 56,000 sqm (602,780 sq ft) site, located on Rhinstraße in the Lichtenberg district and known as the Bluestar Datacenter project, will see four four-story buildings developed and will offer 70MW of IT capacity across 30,000 sqm (322,920 sq ft) of IT space. An on-site substation will also be developed.
Around €1 billion ($1.07 billion) is set to be invested in the project. Commissioning is planned for the first quarter of 2026.
"With Bluestar, we are setting a new standard for data centers in Germany," said Khodzitski. "When planning, we focused on maximizing IT performance in relation to the highest level of energy and cooling efficiency. 100 percent of the electricity used comes from renewable energy sources."
Prea subsidiary Prea Construction GmbH is taking on the architectural work, the entire project management, and project development up to phase 4.
The site will use adiabatic cooling and target a PUE of below 1.3. It will be connected to a local district heating scheme.
News that Van Caem was planning a data center in the German capital first surfaced in June, and was confirmed the following month.
Prea said one major challenge at this location was to obtain approval without a development plan and an exemption under the Federal Emissions Control Act.
"99 percent of all architectural offices and developers would have failed with this task," said Prea's Khodzitski.
The property belonged to the Republic of Vietnam for a number of years, and was bought by Dutch investor Harry van Caem in 2015.
The data center project replaced an earlier design to build office buildings that would blend with the nearby Herzberge Park. The site is currently used by motorbike training company KraftRaT, according to Google Maps.
More in Construction & Site Selection