A series of explosions at the Port of Tianjin in China, which hit the city last Wednesday, damaged a nearby data center and took down Tiahne-1A - once the world's most powerful supercomputer.
According to information on Sina Weibo, the area serves a hub for technology companies with Hewlett-Packard, jobs and recruitment site Liepin, online classifieds site 58.com and mobile device manufacturer Ahmed Technology all located in the immediate vicinity of the port.
Chinese Internet giant Tencent was forced to temporarily close its data center after the blast managed to fling debris as far as the server rooms.
Meanwhile the National Supercomputing Center in Tianjin had to shut down its machines as a precaution, after suffering damage to the exterior of the building.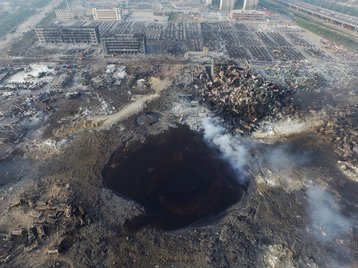 Technological impact
The explosions in Tianjin were so powerful they registered as minor earthquakes, and so bright they were visible from space. Apartment blocks located as far away as 2km from the site had their windows shattered, more than a hundred people were killed and several hundreds injured.
The exact cause of the tragedy is not clear, but evidence collected so far points at an industrial accident caused by breaches of regulations and safety procedures.
In the aftermath of the explosion, Tencent had to take its data center offline, causing disruption to video services. The company said the repairs have already been completed, and the facility is now operating at full strength. No data center employees were injured.
The National Supercomputing Center was also caught in the blast that shattered its windows, damaged the façade and caused some internal ceilings to collapse.
The center decided to switch off Tianhe-1A, the fastest computer in the world from October 2010 to June 2011 (now residing at number 24). Its successor, Tianhe-2 is currently the most powerful machine in the world – the position it has kept for more than two years.
State-owned Xinhua News reports that no hardware was damaged, since Tianhe-1A resides in a reinforced computer room - the supercomputer was shut down manually due to security concerns.