American silicon designer PMC-Sierra has announced several new products at the annual Flash Memory Summit, including industry's first storage switch developed specifically for solid state drives (SSDs) connected through PCIe expansion bus.
The Switchtec PSX family enables IT administrators to pool a large number of PCIe drives to create the highest performance storage tier possible with current technology.
The company also launched the second generation of Flashtec storage controllers, featuring an integrated DDR4 cache. PMC-Sierra calls these the fastest PCIe SSD controllers on the market today.
Both products are already sampling with storage drive and array manufacturers.
"We look forward to working together with PMC to enable SSDs based on SK hynix 3D NAND and PMC's industry leading PCIe SSD controllers for the hyperscale and enterprise SSD markets," said S.H. Choi, head of NAND Product Planning Office at SK hynix.
PCIe for performance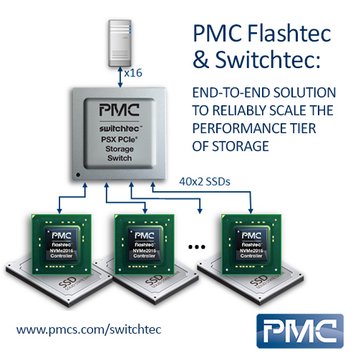 The quest for higher speeds and lower latency is gradually pushing SSDs into PCI Express ports (and DIMM slots too). Located closer to the processor, PCIe devices can transfer data 5-10 times faster than those connected via SATA or SAS, while not taking nearly as much space as a rack of 3.5-inch SSDs.
Some of the vendors operating in this space include EMC, IBM, HP, Fusion-io, now owned by SanDisk, and OCZ, now a subsidiary of Toshiba. These are exactly the vendors Switchtec PSX and Flashtec products are aimed at.
The PSX family of switches supports SSD hot-swapping and anywhere between x2 and x16 PCIe lanes per port. It features programmable processors, offering diagnostic and debugging features that can be fine-tuned by individual OEMs. PMC-Sierra says these switches consume up to 60 percent less power than comparable solutions from its competitors.
The company hopes Switchtec PCX will pave the way towards mass deployments of PCIe storage.
"While working with the industry to enable the first NVMe SSDs, it became clear there was no reliable way to connect and scale many of them in a single enclosure, much like SAS does today," explained Derek Dicker, vice president of the Performance Solutions Group at PMC-Sierra.
"In partnership with the industry's most forward-thinking hyperscale and all-flash array customers, PMC created a new PCIe storage switch category with our Switchtec products to deliver the high port count, low power, resilient storage features that the industry needs."
Meanwhile the second generation Flashtec controllers were designed to add advanced functionality to existing flash chips. They support all next-gen NAND types, in-line encryption, advanced LDPC error correction and power loss protection. SSDs built with Flashtec can deliver up to one million IOPS and 20TB of capacity – something we can look forward to in upcoming storage devices.