A plot of land outside Chicago, Illinois being offered for sale as a potential data center development opportunity.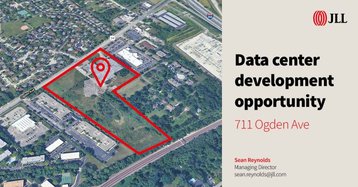 "Looking for a Chicago area data center development site with quick access to 50 megawatts?," Sean Reynolds, Regional Director at JLL, said on LinkedIn this week.
Located at 711 Ogden Avenue in the DuPage County town of Lisle, the ~18-acre site is located to the west of Chicago. The site currently features a 12,000 sq ft (1,100 sqm) single-story office building. The land has previously been on sale for $6.8 million, but JLL didn't include a price.
Sean Farney, executive director, data center strategy & innovation at JLL said the site was "a fantastic Chicagoland data center development site close to robust power and major fiber routes."
DCD has reached out to JLL for more information.
Update: Reynolds told DCD in a statement: "The Chicago data center market has seen great acquisition activity and my team has been in some fashion on nearly every project. We've seen new data center developer / operator groups come to the market and have great leasing success. Generally, the demand in Chicago for data center sites are high and supply of credible sites are low. Colocation data center vacancy is low as well. It is pretty challenging in Chicago to find the "right" development site today with access to significant power, fiber and 15+ acres. We've been able to identify the "right" site for a numbers of data center clients in our market. We're confident the Lisle site is one that will provide for a successful data center development."
Have or know of a data center for sale? Get in touch.