The Philippine Long Distance Telephone Company (PLDT) Group has announced the construction of its eighth data center in the country for Php 1.3 billion (US$29.1m). Expected to accommodate around 1,200 racks, the new five-storey facility will be located in the Clark Special Economic Zone and Freeport in Pampanga.
The Clark facility is the fifth data center by PLDT Group's VITRO data center business unit, and comes exactly a year after construction commenced for a facility in Makati. This new data center will cater to the IT and disaster recovery requirements of the region's business communities and planned IT hubs in Central Luzon region, and will be built based on TIA-942 and LEED standard guidelines.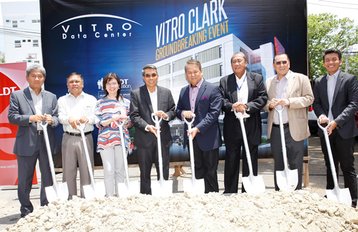 A mark in history
Counting the three data centers operated by ePLDT subsidiary IP Converge Data Services, the completion of Clark data center will give PLDT Group eight commercial data centers with a combined capacity of more than 8,000 racks–making it the largest in the Philippines, said PLDT in a statement. The other data centers owned by Group are located in Subic, Pasig, Cebu, Sucat in Paranaque, Fort Bonifacio and Makati.
"We are confident that the PLDT Group will again make our mark in Philippine ICT history," said PLDT executive vice president and ePLDT president and CEO Eric Alberto. "We are not doing this just for the prestige of becoming the largest data center operator in the country. We are doing this because we want to enable local enterprises to compete in the global arena and help fulfill our country's destiny to become the next Asian Economic Tiger."
When we spoke to 1-Net managing director Wong Ka Vin last year, he told us that Philippines had potential as one of the largest hubs for call and marketing centers, as well as outsourced digital content creation. Despite the fact that the telecom industry was deregulated in 1995, Wong cautioned that new data center operators would first have to forge a partnership with the two local carriers that currently dominate the market there.