Hyperconverged infrastructure (HCI) vendor Pivot3 has launched a ruggedized version of its server kit, designed for use cases in "defense, intelligence and harsh environment operations."
The Intelligent Edge Command and Control appliance consists of up to four servers, equipped with NVMe SSD storage and housed in a portable Loadmaster rackmount case from ECS.
It features fully automated management through Pivot3's Intelligence Engine software, making it suitable for edge deployments in remote locations that might not be accessible to an engineer.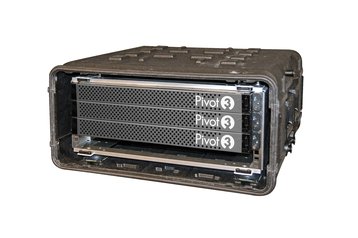 Out in the field
Texas-based Pivtot3 was founded in 2003 and shipped its first HCI product in 2008. The company specializes in hardware platforms that integrate all the necessary storage, compute and networking components, along with proprietary optimization and management software. In 2016, Pivot3 acquired NexGen Storage, gaining entry into the all-flash and hybrid storage array market.
To date, the company has deployed more than 18,000 hyperconverged infrastructure systems and storage arrays across 53 countries.
Its latest product was designed for deployments at the "tactical edge." The Intelligent Edge Command and Control appliance is essentially a data center in a box, all it requires is power, a network connection and a KVM interface.
Pivot3 says the system was created to capitalize on the use of technology by intelligence and law enforcement agencies that are increasingly adopting devices like body cameras and IoT sensors. It also supports analytics, virtual desktop infrastructure and IoT uses cases, and can serve as a building block in a hybrid IT deployment, able to share resources with public cloud services.
"Whether you're navigating uncertainty on the battlefield or facing austere environments, effective tactical operations require an IT solution that can weather any storm without compromising performance and ease of use," said Jeff Forte, VP of Federal at Pivot3.
"Pivot3's Intelligent Edge Command and Control solution allows agencies to reimagine their capabilities in the field and achieve new levels of control and data utilization, no matter the environment."