Indian data center operator Pi Datacenters has obtained a Tier IV Design certificate for its facility in Amaravati, in the state of Andhra Pradesh.
Tier IV certificate from the Uptime Institute signifies that a data center was designed to offer the highest standards of redundancy and fault tolerance, with expected availability of 99.995 percent.
Reliable by design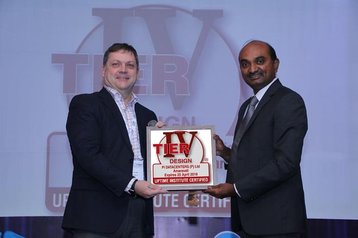 Pi Datacenters offers colocation and cloud services out of a modular data center located on a 10-acre piece of land in Amaravati, the new capital of Andhra Pradesh. The facility has capacity to house more than 5,000 racks.
Design certification from the Uptime Institute looks at the facility blueprints and evaluates the mechanical, electrical and structural components of the data center.
To achieve Tier IV status, Pi Datacenters had to offer full redundancy on uplinks, cooling and power distribution, allowing for the occurrence of any unplanned activity while still maintaining operations.
Tier IV facilities have no single points of failure, and allow no more than 26.3 minutes of downtime per year.
"We are thrilled to be part of the elite league of data centers in the world to have received the Uptime Institute Tier IV Design certification," said Kalyan Muppaneni, founder and CEO of Pi Datacenters. "This is another positive step forward in introducing world class data center design to Indian enterprises, with rigorous standards to help us continue to re-define a benchmark for excellence."
Obtaining Tier IV Design certificate is just the first of the process: it will be up to Pi Datacenters to obtain Facility certification, which involves inspection of the actual data center building, and Operational Sustainability certification, which looks at the processes within the facility.