Data center operator Princeton Digital Group (PDG) has bought renewable energy certificates (RECs) for geothermal energy towards the operation of three data centers in the country.
PDG bought RECs from the state-owned electricity firm, PLN, for data centers in Jakarta, Bandung, and Pekanbaru. The RECs are issued for electricity from the Kamojang geothermal plant operated by Pertamina.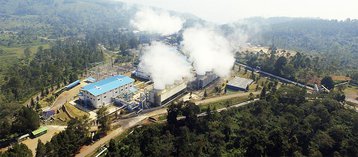 PDG bought into Indonesia in 2019, by acquiring a 70 percent stake in the data center portfolio of Indonesian telecommunications operator XL Axiata. This gave it five data centers, in Pekanbaru, Cibitung, Surabaya, Bintaro, and Bandung. It has since built a second Jakarta facility, Jakarta Cibitung 2 (JC2) - a $150 million 22MW greenfield development next to its existing JC1 data center.
Explaining the REC purchase, Stephanus Tumbelaka, managing director at PDG Indonesia,.said: "The RECs offset the carbon footprint of our data centers and demonstrate PDG's commitment to support the sustainability goals of our customers. It advances our strategy towards having all our data centers powered by renewable energy by 2030."
PDG has been buying RECs from PLN since 2020 and was apparently the first corporate buyer to do so. These RECs are issued through the Clean Energy Investment Accelerator (CEIA).
RECs are one of several ways for data center firms to pay for renewable energy. They effectively "buy" the energy from the supplier. They are seen as a second-best solution, with commentators encouraging large providers to be more proactive - buying power purchase agreements that fund the creation of new renewable power.
"RECs, used in most data center sustainability strategies, cannot credibly be used to back claims of 100 percent renewable energy use," commented energy researcher David Mytton in 2021.
PDG points out that the RECs it buys from PLN are internationally recognized, meeting the RE-100 Best Practices Guidelines, and Carbon Disclosure Project standards.
Climate Action Tracker rates Indonesia's climate change action as "Highly Insufficient," pointing out that its energy policy still relies on the increasing use of coal and has a net-zero target of 2060, along with actions that will not support the 1.5°C target.
CAT says that Indonesia could increase its renewable energy mix far beyond current plans and supply 100 percent of its electricity with renewable sources by 2050. CAT comments: "Indonesia's climate policies are failing to put the country on a development pathway that uses its vast renewable energy potential."
"We highly appreciate PDG for the commitment to using clean energy to support a greener Indonesia," said Doddy B. Pangaribuan, general manager of PLN Jakarta Raya Main Distribution Unit. "Through REC, PLN enables customers in running sustainable businesses and supports customers together with the government to achieve our Net Zero Emission target by 2060."