Pawsey Supercomputing Research Centre's Setonix has been recognized as the world's fourth greenest supercomputer on the Green500 list.
Named after the native Quokka (Setonix brachyurus), known for being the 'world's happiest animal,' the Setonix HPC has similarly made waves by being the most powerful supercomputer in the southern hemisphere, as well as one of the greenest.
The Setonix system puts this 'green rating' down to the use of AMD M1250X GPUs and Milan CPUs, as well as green power sources and cooling solutions.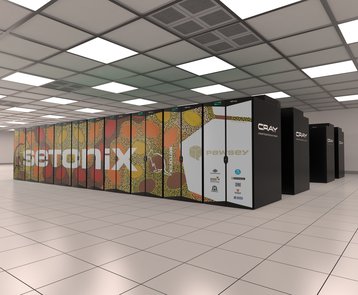 The 50 petaflops system offers an energy efficiency rating (measured in gigaflops per watt) of 56.983.
Setonix is cooled by CSIRO technology, leveraging a shallow aquifer beneath the supercomputing center, which saves roughly seven million liters of water annually. The cooling distribution unit removes heat from the system via a heat exchanger with data center water, with liquid cooling routed to individual blades and components in cabinets as part of a closed-loop system.
"It's a great result for Australian science," Pawsey head Mark Stickells said at the Supercomputing conference.
The new rankings announced at the conference put Sentonix in the company of Europe's best, the LUMI in Finlan d, and the world's fastest, the Frontier in the United States.
"It's an energy-intensive activity and it's incumbent on us to operate it efficiently and work with scientists to make sure they have the right tools to reduce the energy impact of their science," Stickells said.
The Setonix system includes an eight-cabinet HPE Cray EX system with 217,088 AMD compute cores, 768 graphics cores, and 1,792 sets of compute nodes. The system is an upgrade to its predecessor Magnus and will provide double the computing power. Setonix will be available to researchers at Pawsey from early next year.
The second stage of the supercomputer is currently being rolled out. Its first stage passed a stress test earlier this year, processing data from CSIRO's ASKAP radio telescope in under five hours.
As well as working with universities, Sentonix will process astronomy data from the Square Kilometre Array telescope being part-built in Western Australia. According to Stickells, Setonix is also looking at ways to model at the level of the planet on climate, and on a regional level looking at aquifers.