A section of Shackleton Barracks, a former military installation at Ballykelly in Northern Ireland, is being considered for a data center development.
Planning documents submitted by Newry-based O'Callaghan Planning and spotted by Belfast Telegraph propose a 25,000 square meter (269,100 sq ft) data center. The company provides town planning and consultancy services for construction, property and development firms.
A public information event, providing further details about the project, will take place on July 5 at the site.
Shackleton's big plans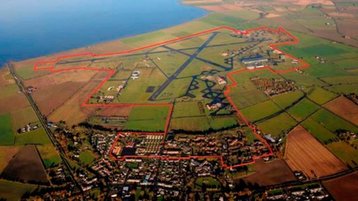 "We're at a very early but exciting stage in the planning process," a company spokesperson told the Belfast Telegraph. "We hope to discuss this further with the local community during the consultation period."
The 621-acre Shackleton Barracks site (previously known as RAF Ballykelly) was acquired by cruise ship refurbishment and refit services company MJM Group in 2016 for £1 million (US$1.3m).
Work is underway to turn the former military installation into a bustling business park. Among the projects planned is an area for film facilities and studios, and film crew accommodation.
The site is also bidding to be a logistics hub for off-site construction of Heathrow Airport's new runway, and will be home to the Department of Agriculture, Environment and Rural Affairs (DAERA) new headquarters.