Oracle is ready to take on market leader AWS as it rapidly expands its cloud business – at least according to the company's executive chairman and CTO Larry Ellison.
Ellison made his comments as he introduced more than 20 new Oracle Cloud Platform and Application services during the opening keynote of Oracle OpenWorld 2016 conference in San Francisco.
"Amazon's lead is over," Ellison said. "Amazon is going to have serious competition going forward. And we're very proud of our second generation of Infrastructure as a Service. We're going to be focusing on it and aggressively featuring it not only during Oracle OpenWorld but for the remainder of this fiscal year and next fiscal year and the year after that."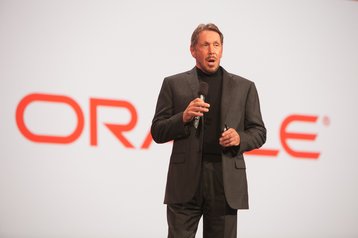 Fighting talk
Oracle describes its infrastructure services as the world's most complete, open and integrated cloud computing platform.
"We have more SaaS applications by a huge margin than any other cloud services provider," Ellison said. "We have HCM suite, CRM Suite, Customer Experience Suite plus lots and lots of industry suites as well. And we're constantly, constantly adding to our footprint.
"Our new second-generation datacenters offer twice as many cores as Amazon, twice as much memory as Amazon, four times as much storage as Amazon, and more than 10 times the I/O capacity of Amazon. But you have to be willing to pay less. If you're not willing to pay less, you can't place the order."
It is worth mentioning that Oracle runs 19 data centers, while AWS offers 35 Availability Zones, each consisting of at least one data center, but often including several.
The headliner among Oracle's latest crop of SaaS offerings is the Oracle Database 12c Release 2, which, initially, is only available as a cloud-based service, with an on-premises version expected at a later date.
Oracle says its software is orders of magnitudes faster and more scalable than competing cloud-based solutions but the decision to launch SaaS version first – designed to entice customers to try Oracle's cloud - is likely to anger those who, for one reason or another, need to run their database in their own data centers.
The company has also announced new services for Oracle EPR Cloud, HCM Cloud, CX Cloud and EPM Cloud, a new Container Cloud service to support cloud developers and simplify container management on public infrastructure, a new API cloud service, a new analytics suite and a number of Internet of Things applications and management services.
In a separate press release, Oracle said the OpenWorld conference has made $3.2 billion for the city of San Francisco over the past 20 years.