Oracle has introduced a Blockchain Cloud Service, a distributed ledger cloud platform that it says will reduce cost and risk to businesses by making transactions tamper-resistant.
Part of the Oracle Cloud Platform, Oracle Blockchain Cloud Service will offer built-in monitoring, continuous backup, and point-in-time recovery.
B2B transactions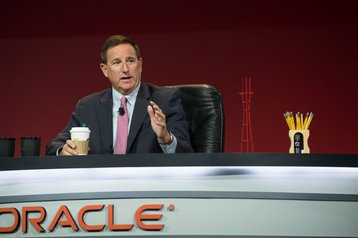 The technology is expected to speed up business processes by enabling trusted real-time information sharing across existing products in the Oracle family such as the Oracle ERP Cloud, Oracle SCM Cloud and Netsuite SuiteCloud Platform, as well as custom blockchain application integrations.
The company says the use of blockchain will ensure reliable peer-to-peer B2B transactions, while doing away with the cost and risks of intermediaries or the inherent delays stemming from offline reconciliations.
"Blockchain holds the promise to fundamentally transform how business is done, making business-to-business interactions more secure, transparent, and efficient," Amit Zavery, SVP of Oracle Cloud Platform, said.
Why blockchain
At a media roundtable, Eric Kirby, group VP of Oracle Data Cloud, revealed that the team is currently working on blockchain-enabled applications, and that the service will be generally available by end of this year.
But is there a compelling reason for enterprises to look to Oracle for its blockchain service, given that the technology behind blockchain is widely-known?
"There is so much innovation going on… it is hard to keep up. With Oracle, you are future-proofing your investment. I think that's how we look at it, and how most of the companies we speak to. Our platform makes it easy for [customers] to keep up," Kirby said.
"The fundamentals of blockchain is the transfer of meaningful information, in some cases from ledger to ledger, or application to application. This fundamental test of integrity, whether it is a hospital record [or an ERP record], is an important aspect of the future of the technology," explained Oracle co-CEO Mark Hurd at a press conference attended by DCD.
"A lot of people ask me: What's the next big thing that will happen in the industry? This ability to seamlessly move data across the enterprise… breaking down the silos. Blockchain plays a role in that process. The actual function itself is extremely valuable in the future that the enterprise has," he said.