Oracle is to buy NetSuite Inc for about $9.3 billion as it continues its aggressive efforts to expand its presence in the cloud market.
NetSuite, which was the first company dedicated to providing cloud based business applications, saw its shares rise 18.6 percent on the news to $108.64, only slightly below Oracle's offer price of $109 per share.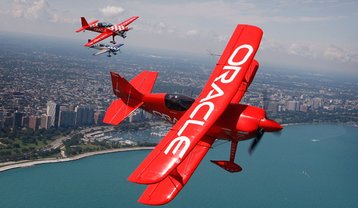 It was waiting to happen
The acquisition may not come as a huge surprise to followers of NetSuite, which has oft been rumored for an Oracle takeover.
Back in 1998, NetSuite CEO Evan Goldberg received around $125 million in initial financial backing from Oracle founder Larry Ellison through his venture capital entity Tako Ventures. By December 2014, Ellison and his family members owned around 47.4 percent of NetSuite's common stock.
NetSuite, which previously went by the name NetLedger and Oracle Small Business Suite, has had close business ties to Oracle since its inception, relying on database software licensed from the company.
However, Oracle stressed that the takeover was agreed upon by a Special Committee of Oracle's Board of Directors consisting solely of independent directors, and that the deal's closure is subject to "the majority of NetSuite's outstanding shares not owned by executive officers or directors of NetSuite, or persons affiliated with Larry Ellison, his family members and any affiliated entities, be tendered in the tender offer."
"Oracle and NetSuite cloud applications are complementary, and will coexist in the marketplace forever," said Mark Hurd, Oracle CEO.
Zach Nelson, CEO at NetSuite, added: "NetSuite will benefit from Oracle's global scale and reach to accelerate the availability of our cloud solutions in more industries and more countries. We are excited to join Oracle and accelerate our pace of innovation."
Oracle shares rose by 1.6 percent at $41.6 in premarket trading on the news.