Oracle is planning to open nine data centers over the next six months, as it attempts to establish itself as a leading provider of public cloud services.
The company will launch three new cloud regions in 2017 – based in London, Renston and an unspecified location in Turkey – each consisting of three low-latency sites.
Oracle says this expansion will achieve the goal of doubling the regional presence of its cloud platform in the space of just 24 months. There are further plans to open new regions in Asia Pacific, North America and the Middle East in 2018.
"This regional expansion underscores our commitment to making the engineering and capital investments required to continue to be a global large scale cloud platform leader," said Deepak Patil, vice president of development for Oracle Cloud Platform.
The expansion was announced by CEO Mark Hurd at the Oracle CloudWorld conference in New York.
Keeping up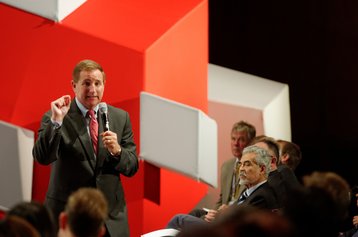 Oracle has been rapidly growing its cloud product portfolio and adding new points of presence following last year's Oracle OpenWorld, where its executive chairman and CTO Larry Ellison proclaimed that his company was going to compete with AWS, the world's largest cloud provider.
In order to accomplish this goal, Oracle is moving into new facilities located in the US, the UK and Turkey. Each location will involve at least three geographically separate data centers to ensure failure protection and high availability.
With this latest expansion, Oracle's cloud services will be available from 29 different regions.
It is worth noting that Oracle and AWS have adopted very different cloud deployment methods: AWS designs and builds the majority of its facilities from the ground up, while Oracle simply leases space in third-party data centers, saving time at the expense of site customization.
Along with the geographical expansion, the company has expanded its cloud offering, making Oracle Database Cloud Service available on bare metal for the very first time. It has also added new virtual machine (VM) capabilities, with one, two, and four-core VMs running on the same Virtual Cloud Network as its bare metal servers.
"These latest investments in the Oracle Cloud Platform provide a clear path to develop, test, and scale applications – with the Oracle Database or third-party databases. We offer customers the most comprehensive approach to moving to the cloud and accelerating their business strategies," said Thomas Kurian, president of product development at Oracle.
"Oracle provides the broadest and strongest choice of relational database cloud services that are 100 percent compatible with applications deployed on-premises, making it easy for customers to seamlessly move enterprise workloads to the cloud."
And finally, the company has introduced Oracle Code, a free event series that will bring developers together to learn about the latest technology trends and best practices. The first Oracle Code event is set to take place in San Fancisco on March 1, followed by Austin, New York and Washington D.C..
Oracle hopes to host a total of 20 such events this year, in large cities across North America, Europe, Asia and South America.