Oracle is offering a single-rack Oracle Cloud system that customers can deploy on-premise in their own data centers.
Oracle's Cloud@Customer portfolio features a number of on-premise offerings, including a 12-rack Dedicated Region that offers all the same services as OCI public regions, but in a private cloud deployment.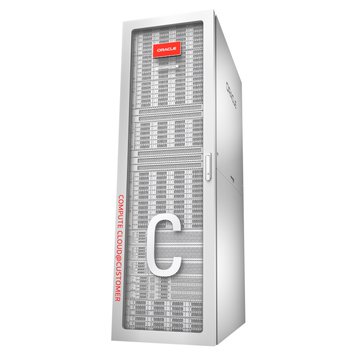 The company said the new Compute Cloud@Customer offers "on-premise rack-scale cloud infrastructure."
The system comes in a 42U rack configuration, weighing between 1,230lbs (559kg) and 1,752lbs (796kg) depending on the configuration. Typical power usage for the system ranges from 6,500 watts up to 14,690 watts, with a maximum of up to 20,988 watts.
The service allows customers to develop, deploy, secure, and manage workloads using the same software stack as OCI, but in deployments as small as a single rack.
Organizations can use the same OCI services in their data centers and Oracle Cloud Regions as well as the same APIs and management tools.
Starting with 552 AMD Epyc processor cores and 150TB of usable storage (block, file, and/or object), Compute Cloud@Customer can scale to more than 6,000 processor cores and 3.4PB of storage capacity.
"Users want a consistent experience regardless of where services are running, and that is why we continue to invest in our distributed cloud strategy with the launch of Compute Cloud@Customer," said Edward Screven, chief corporate architect, Oracle.
"Oracle provides a choice of OCI public cloud regions, Dedicated Region, and Cloud@Customer platforms that customers can combine to create a globally distributed cloud solution. This choice makes it easy for customers to achieve their strategic cloud business objectives while enabling them to address data residency requirements and to access high-performance connections to existing data center and latency-sensitive applications."
The platform is installed and managed by Oracle, and offered under a pay-as-you-use consumption model, but requires a minimum 48-month commitment. Customers can also expand the compute and storage capacity during the lifetime of a subscription.
Oracle said the new on-premise system can help customers move existing Oracle systems to a cloud-centric system that can be quickly migrated to the public cloud in future, as well as offer data sovereignty.
While Amazon and Microsoft offer on-premise hardware, Jason Schaffer, VP of systems product management and solution engineering at Oracle, said that Compute Cloud configurations can provide up to 3.8 times the number of cores per rack as an Amazon Web Services (AWS) Outpost system and 1.4 times the number available with the densest Microsoft Azure Stack Hub system, and offer greater flexibility. They also offered more storage.
"Neither AWS Outposts nor Azure Stack Hub support file storage protocols, forcing you to use different storage systems for those workloads," he said. "Furthermore, AWS Outposts have limited storage capacity with up to 380TB of object storage and 55TB of block storage that can't be redeployed for other uses. Compute Cloud@Customer has up to 7.8 times the total amount of storage and lets you use it any way you choose."