Oracle and Intel have gone on the offensive against IBM by launching a program that promotes the benefits of migration from IBM's Power Systems to Oracle Engineered Systems.
The 'Exa your Power' program offers free Proof of Concept database migration, with Oracle engineers assessing customer systems and providing a detailed report of costs and savings involved.
Power Systems are based on Power architecture and processors designed by IBM. Meanwhile Oracle Engineered Systems rely on traditional x86 chips from Intel.
Oracle says its hardware and software has been engineered to provide the highest-performing and most-available platform for running Oracle Database and customer applications. However, in its comparisons it has used servers based on Power 7 family of processors, which has been superseded by Power 8.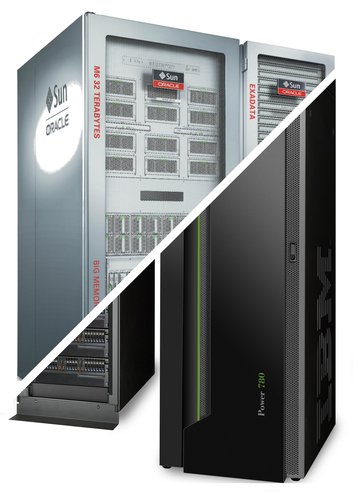 The exorcism
IBM began designing Power CPUs in the late eighties. These processors are based on Reduced Instruction Set Computing (RISC) design strategy - an alternative to the x86 instruction set that dominates the server market.
Power CPUs consume less power, require less cooling and are cheaper to make than their x86 counterparts. They usually feature more cores clocked at lower rates than chips from Intel. IBM has recently started licensing the related intellectual property through the OpenPower foundation, in hopes it will grow the Power ecosystem, but the market share of this technology remains miniscule.
And yet the growing popularity of Power has the competition worried. The Exa Your Power program is an attempt to move customers away from IBM hardware, funded jointly by Oracle and Intel.
"Working together with Intel and our partners, we have helped thousands of enterprises quickly and easily move their Oracle database from their legacy systems to Oracle Engineered Systems," said Karen Sigman, vice president of Oracle Platform Business. "This is an extension of our partnership focused on helping our customers achieve better performance, lower costs and better security."
"The Exa Your Power program will make it easier for customers to realize the benefits of moving to Intel architecture," added Raj Hazra, vice president of Data Center Group and GM of Enterprise and HPC Group at Intel.
The case Oracle makes is far from clear: its customer CSC says that, following the migration, it saw 4x to 10x growth in performance when running Siebel CRM and 12x growth in ETL process performance.
However, the study compared Oracle Exadata X5 hardware, announced in January 2015, to the previous generation systems based on outdated Power 7 silicon.
Earlier this month IBM announced a new server range - the Power Systems LC - based on the Power 8 chip, which it claimed delivered considerable price-to-performance lead over current-generation x86 systems with Intel inside.
IBM quoted 2.3x better performance in Apache Spark per dollar spent, as well as 94 percent more Spark workloads per rack than a comparable x86-based system.
With two competing vendors both claiming superior performance, customers should be extra careful when choosing where to invest their money.