Oracle will buy healthcare IT company Cerner, in its largest ever acquisition.
The company plans to buy Cerner for $95 per share, or approximately $28.3 billion in equity value.
Cerner develops computerized health systems and electronics records for hospitals, competing with Epic Systems Corp and Athenahealth Inc.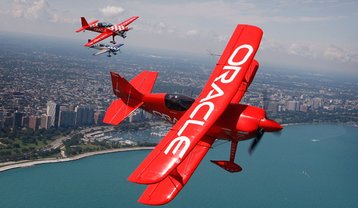 "With this acquisition, Oracle's corporate mission expands to assume the responsibility to provide our overworked medical professionals with a new generation of easier-to-use digital tools that enable access to information via a hands-free voice interface to secure cloud applications," Larry Ellison, Oracle chairman and CTO, said.
"This new generation of medical information systems promises to lower the administrative workload burdening our medical professionals, improve patient privacy and outcomes, and lower overall healthcare costs."
Cerner has historically used its own data centers to store millions of citizens' healthcare data. But in 2019, the company began shifting to the cloud - announcing it planned to move some workloads to Amazon Web Services.
"Our work with Amazon and AWS is a key component for the next chapter at Cerner," Brent Shafer, chairman and CEO of Cerner at the time, said.
"As we work to transform Cerner, we are joining forces with Amazon and AWS to help fuel our strategy of making Cerner more agile in order to deliver faster, more scalable and secure solutions to clients and patients. We expect this collaboration with Amazon and AWS will enable a new wave of innovation that can lead and transform the future of healthcare."
Now, however, Oracle expects to transition its new acquisition to its cloud platform.
"Oracle's Autonomous Database, low-code development tools, and Voice Digital Assistant user interface enables us to rapidly modernize Cerner's systems and move them to our Gen2 Cloud," said Mike Sicilia, EVP of vertical industries at Oracle.
"This can be done very quickly because Cerner's largest business and most important clinical system already runs on the Oracle Database. No change required there. What will change is the user interface. We will make Cerner's systems much easier to learn and use by making Oracle's hands-free Voice Digital Assistant the primary interface to Cerner's clinical systems. This will allow medical professionals to spend less time typing on computer keyboards and more time caring for patients."
For more, register to watch the new DCD>Inside Healthcare & Life Sciences broadcast: