Worldwide sales of optical systems have grown 15 percent sequentially and 7 percent year-on-year to reach $3.5 billion in the second quarter of 2016, according to market research group IHS.
A "spending spree in China," which led to a 41 percent sequential and 22 percent year-over-year rise in the region, along with "solid gains" in EMEA (Europe, Middle East, Africa) and CALA (Caribbean and Latin America) were thought behind the increase.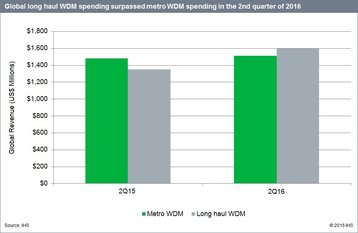 China rising
Heidi Adams, senior research director of transport networks at IHS Markit, said that "the long-haul wavelength-division multiplexing (WDM) segment of the optical network hardware market outperformed the metro WDM sector in Q2 2016, with spending increasing 23 percent sequentially and 18 percent from a year ago."
Metro WDM growth in Q2 2016 was just 2 percent year-on-year, but IHS expects growth to pick up towards the end of the year as new data center interconnect (DCI)–oriented products start shipping in volume and as major metro deployments in North America, mainly from Verizon, begin.
The Synchronous Optical Networking (SONET) and Synchronous Digital Hierarchy (SDH) segment saw some growth due to project-specific spending, but was still locked in a longer-term overall decline as spending was down 8 percent year-over-year.
Huawei was the biggest winner in the second quarter, gaining a 41 percent year-over-year revenue rise after grabbing a 32 percent share of the optical hardware market.