Google and Rackspace have joined forces to develop a server architecture based on IBM's POWER9 processors that's fully compliant with the Open Compute Project (OCP) guidelines.
Rackspace has also announced deployment plans for its 'Barreleye' server, the industry's first fully certified OpenPower/Open Compute/Open Stack system.
Meanwhile IBM has promised to add Open Compute Project compliant systems to its 'Linux on Power' portfolio, aiming to support big data analytics and cognitive applications in the cloud.
All of the announcements were made on the first day of the annual OpenPower Summit in San Jose, California. The crossover between the two organizations is expected to boost the open hardware movement as a whole, and increase the appeal of IBM's venerable Power silicon.
"Open Compute Project is focused on efficiency, flexibility, and openness—and we recognize the importance of the Power processor and the robust OpenPower ecosystem for the future of server design," said Amber Graner, director of Operations and community manager for the OCP.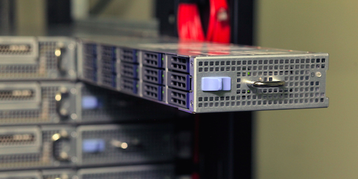 Dream team

The OpenPower Foundation was established in December 2013 as a network of select partners with whom IBM would share its Power processor specifications, hoping this would advance the ecosystem as a whole. Power processors are based on Reduced Instruction Set Computing (RISC) design strategy - an alternative to the dominant x86 instruction set backed by Intel.
Today, the Foundation counts more than 200 organizations among its members including Google, Samsung, Canonical, Mellanox, Micron and Nvidia.
OpenPower focuses on open server and system design, while Open Compute focuses on creating open data center design. Collaboration between the two makes sense, and this year, the systems that fit into both frameworks will be coming thick and fast.
Google – one of the founding members of OpenPower – is developing a Power-based server that it plans to submit to the OCP. To this end, the company is working with Rackspace, but Rackspace is also developing its own OpenPower implementation codenamed 'Barreleye'.
Barreleye was already formally accepted by the OCP in February 2016, and now the managed hosting company is moving from concept to reality with actual data center deployments expected later this year.
"We are excited to work with Google on our POWER9 OpenPOWER-based, Open Compute Project form factor server," said Aaron Sullivan, OCP Incubation Committee member and distinguished engineer at Rackspace.
"OpenPOWER processors combined with acceleration technology are fundamentally changing server and data center design today and into the future. OpenPOWER provides a great platform for the speed and flexibility needs of hyper-scale operators as they demand ever-increasing levels of scalability."
IBM itself is busy making Open Compute Project-compliant systems for the LC series of servers, which take advantage of all the innovation channeled through OpenPower. Mark III Systems, Penguin Computing and Stack Velocity are three more hardware vendors that will offer systems that simultaneously fit into OpenPower and Open Compute.