A group of more than 75 companies are today joining the Open19 Foundation, a non-profit open source organization which aims to create data center hardware standards without threatening the intellectual property of those involved.
Founded by LinkedIn, HPE, GE Digital, Flex and Vapor IO, the foundation is made up of "data center operators, systems operators, component suppliers" representing about a million servers a year, said Yuval Bachar, LinkedIn's principal engineer for global infrastructure architecture and strategy, and president of the Open19 Foundation.
A new way of building data centers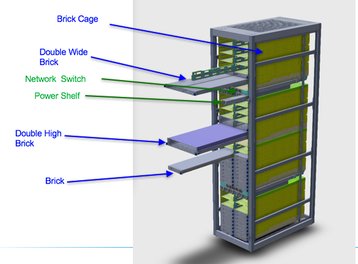 The organization's first project, which will be available in the fourth quarter of the year, is a hardware platform based on what has been defined as the Open19 standard.
As the name indicates, the platform works with any 19-inch rack, but allows for multiple suppliers for every element. In other words, the framework is standardized, but the choice of servers and storage is entirely up to the customer. The idea is to make modular, efficient designs for data centers that can be integrated quickly. 
The standard stipulates four basic core elements: a cage; bricks to hold servers and storage, which can be half-width, full width, double height and double width to allow for flexibility in design; a power distribution shelf, which takes "low power, high power or DC/AC and converts it into a low power distribution into the rack itself," Bachar explained. And finally, the cage itself, which uses snap-on cables for both power and data. Optionally, a networking switch and a backup battery unit can be added.
The rack operates in different cooling environments, and will work exactly the same way no matter the power environment. 
As a result, a single rack can be integrated at a fifth of the time it would usually take. "So when you roll those into the data center, you roll a rack, you put those cages in, you do the snap cables that you see on the left side, and that's it. From that point it becomes a lego game. You just put server one in slot three, server two in slot five, repeat a thousand times. That's it, that's how you build data centers."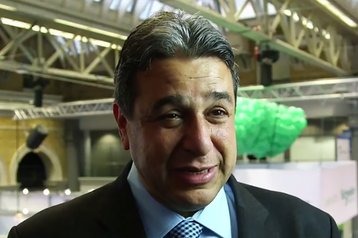 Just another OCP? 
Rather than being a 'one size fits all' standard, Bachar stated that the appeal of Open19 will stem from its ability to cater for specific requirements. "It's not a solution for everybody; it's a solution for people that need a dynamic environment [which can be scaled] from small to large, for people that need a variety of suppliers for different servers that will all be compatible."
An example of this, he said, is bare metal cloud, a public cloud service which allows customers to rent hardware and have their IT systems maintained externally without having to create virtual machines.
"That means that you give slots to your customers.You don't lease colos, you don't lease rooms or containers, you lease slots. So if you can build a cost-effective slot environment, then you go to your customer and say 'how many slots do you want? 100? Okay, these 100 are yours.'"
As Open19 allows for a minimum of 16 servers and is scalable to 150,000 servers, this makes the model suitable for edge platforms too; LinkedIn reportedly uses the Open19 standardfor this purpose already.
Chris Winslow, senior VP and GM of the cloud and data center business unit at Flex, a founding member of Open19, believes that the initiative is about finding solutions to new problems created by IoT, VR and AR, in which lower latency and "mini clusters of data centers" will be necessary.
"I think the more opportunity for organizations to come together in a collaborative fashion, like the Open19 Foundation, to create new solutions for these new problems, I think the better off the industry will be at the end of the day, as there'll be more choice, more collaboration, more use cases that are easily deliverable that'll make the business that much more robust and faster moving," he said.
And although the Open Compute Project and Open19 appear similar in their approach, the two are "trying to address a different market," according to Bachar, who said many of the foundation's members are also members of the OCP.
And unlike OCP, the Open19 solution does not pose a threat to intellectual property, but is more about pooling resources where intellectual property doesn't matter. "Open technology means that everybody is going towards a common target, and everybody can innovate on their own IP but then we share what we can and we protect the IP of companies that actually need to."
Here's Bachar, explaining the inner workings of the Open19 rack at CeBIT 2017 in Hanover: