The Ethiopian government has barred international companies from buying a stake in mobile operator Ethio Telecom following a review of the companies wishing to do so.
Instead, the country's sole telecoms provider is inviting foreign companies wishing to enter the market to either rent its infrastructure or "build their own," chief executive Frehiwot Tamiru told The East African.
After numerous Internet shutdowns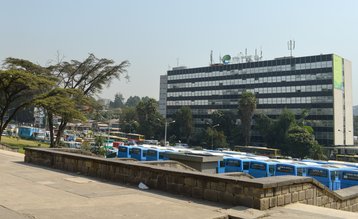 12 international companies - including British telecoms infrastructure developer Helios Towers - expressed interest in acquiring a share of Ethio Telecom when it was put out to tender last year as part of the government's economic reform agenda. The business was previously known as the Ethiopian Telecommunications Corporation, or ETC.
However, the operator said it had spent too much money on building an extensive network to allow foreign companies to swoop in and profit off the back of it.
"We have built sufficient telecom infrastructures like fiber cables and mobile base masts that we can rent to newly entering companies," Tamiru said. "So the incoming telecom operators will either use our existing infrastructure by renting - or build their own."
Even on a local level, Ethio has concerns about the government-led privatization, and has written a letter to the Ethiopian Communication Authority (ECA), which is in charge of licensing companies upon their entry.
However, Tamiru stressed that the company can't imagine that the government would take "any action that could jeopardize Ethio Telecom's existence," but that it still has some issues it wishes to iron out before a sell-off.
Despite the ban, it is reported that investment interest from operators in neighboring Kenya, Safaricom, and its parent company, Vodacom, remains on the table for consideration.
It is worth venturing that the liberalization of Ethiopia's telecommunications infrastructure - albeit limited to local companies - could affect how closely tied it is to government.
In June, the country's communications network - mobile Internet and telephone - were shut off for more than three weeks amid civil unrest following the shooting of locally-prominent singer, Haacaaluu Hundeessaa.
Hundeessaa was associated with the movement that saw the removal of Ethiopia's previous prime minister, Meles Zenawi, the leader of the four-part ethnic coalition structure, the Ethiopian Peoples' Revolutionary Democratic Front (EPRDF), which held power in the country for almost thirty years, before being replaced by the Prosperity Party led by Abiy Ahmed.