OneNeck's newest data center, directly southeast of Denver, Colorado has opened, with 35,000 square feet of space (3250 sq m) built to high security standards.
The facility, intended for disaster recovery / business continuity, is "built like a concrete fortress", according to Phil LaForge, president and CEO of OneNeck. The build so far is just the first phase in an eventual plan for 160,000 sq ft (14,800 sq m) of space.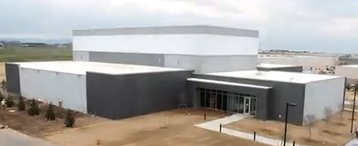 High density concrete
The disaster recovery market demands reliability, and OneNeck's name is a tongue-in-cheek reference to this: "We are the one neck to handle any situation, regardless of the cause. We know it's not always our fault, but it's always our problem. We are the OneNeck to lead and the OneNeck to choke," says marketing VP Teres Snyder on the OneNeck site.
LaForge's fortress description is borne out by 11.5 million pounds of high-density concrete surrounding and supporting the structure, and ceilings made from 15 inch thick pre-stressed, steel-reinforced concrete.
Other notable features include
Design to Tier III+ with Tier IV electrical to ensure multiple levels of redundancy and backup.
Three factor security authentication, including iris dynamics scanners for positive human identification.
Built to support SSAE 16, ISO 27001, PCI-DSS, and HIPAA compliance requirements.
VESDA (Very Early Smoke Detection Apparatus) fire detection system.
Energy saving cooling design with a projected PUE of 1.2 or less.
Self-balancing, redundant, and flexible accommodation of energy use and thermal densities for cabinet arrangements.
For those who want to know how to build a large stressed concrete facility, OneNeck has a time lapse video of the build. While not yet discussing clients for the new facility they expect to shortly have in place one of their ReliaCloud pods, which support cloud hosting and hybrid cloud services for their customers.
As is quite common with new data center builds, OneNeck was able to get abatements from the local government in the form of waivers of the construction permitting fees and a personal property tax rebate. The Denver area data center becomes OneNeck's sixth data center, joining an existing network of facilities in Iowa, Minnesota, Wisconsin, Arizona, and Oregon.