Vertiv will show an OCP V3 rack with DC busbars, a 48V power shelf and liquid cooling, at the Open Compute Project's Summit in San Jose this week.
The cooling and power company will show the concept racks on its stand at the San Jose Convention Center, and take part in presentations covering liquid cooling and sustainability during the event.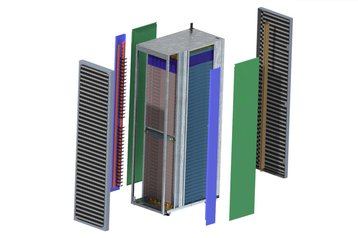 Rack demo
The OCP defined its Open Rack to allow mass-production of data center racks for its hyperscale data centers, and shared it through the Open Compute Project (OCP) so other companies could also benefit from the low-waste design. The Open Rack maximizes space for electronics by increasing the usable space within a standard rack footprint, and also allows for DC power distribution via a busbar. Version 3 of the Open Rack announced by Facebook in 2019, includes support for liquid cooling.
Vertiv's conceptual demo shows the OCP Open Rack V3, including new subsystems: DC busbars, a 48-volt DC rack power shelf with dual universal AC/DC input connectors, and liquid cooling manifolds compatible with row-based or in-rack cooling distribution units. Open Rack V3 upgrades include increased power density and liquid-to-liquid heat exchange for direct-to-chip cooling.
Alongside the concept rack, Vertiv will be showing existing products including the Vertiv VR rack with NetSure DC power equipment, a Geist rack PDU based on OCP concepts, a Vertiv Liebert GXT5 uninterruptible power supply (UPS), and the new Vertiv Avocent ADX Ecosystem IT management platform with embedded Core Insight, built on common architecture and open technology.
"Vertiv values our relationship with the Open Compute Project and the innovative projects that allow us to work closely with customers and other industry leaders – a process that fast-tracks practical and innovative technologies that solve challenges data centers face today," said Stephen Liang, Vertiv CTO. "With the sustainability and economic implications surrounding rising rack densities, data centers can benefit from the latest best practices and product offerings that address these concerns and improve data center operations."
Vertiv will take part in presentations addressing issues including how to integrate liquid cooling, how to distribute the cooling fluid, and how to mitigate concerns about using liquid cooling in high-performance data centers. In other sessions, Vertiv will help show reference designs for liquid cooling and go through guidelines and best practices.
The Open Compute Project defines open-source hardware and standards for implementing technologies in data centers, which can minimize waste and improve productivity of the hardware. As Vertiv's release puts it: "Data center technology refresh happens many times during the life of a data center.  Standardizing connection methods is essential to maximize 'open' use and interchangeability  of technologies with minimal impact, time, and cost."