The Open Compute Project has launched an online directory of products that comply with the open source designs its members share.
The OCP Marketplace is intended to help smaller users to find and evaluate the products they need, said OCP chairman Jason Taylor, in a keynote which also bundled together a host of product announcements designed to illustrate the progress of the Project in speeding the adoption of new technologies to the market.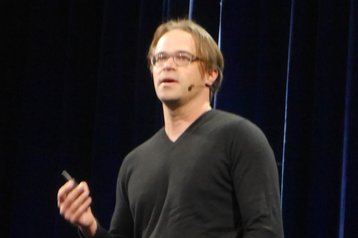 Seventy products
"Today you will see 70 products on the site as well as information about where to buy them," said Taylor, who is president of the Open Compute Foundation, and also vice president of infrastructure at Facebook.
In its early days, OCP was about persuading vendors to offer different SKUs (product options or "stock keeping units") for items like servers, said Taylor, but the project found it necessary to branch into software for switches.
"In the last few years, we have seen unbundling of hardware and software," said Taylor, pointing to announcements that both NetApp and IBM are supporting their storage software on other vendors' OCP hardware.
"NetApp HAS made its software unbundled and available on OCP gear," said Taylor. "It's one of the first times you can get enterprise software completely unbundled from hardware." IBM has done a similar thing with storage software, which is qualified on Facebook's OpenVault Leopard and Rackspace's BarrelEye servers, which are now available with OpenPower processors
This freedom enables such things as Facebook disaggregating the storage from its Tioga Pass servers, giving it the freedom to specify any amount of storage for a given system.
It has also allowed Microsoft's network team to quickly support the 100GB Wedge switch design with its SONIC network software, as well as adapt the system for smoother virtualized functions using containers.  
Later in a keynote which included many contributions including from Microsoft and Facebook, David Dale of NetApp echoed Taylor's sentiments: "NetApp was always a software company. We had to invent hardware, but as time has gone on, we've had to invent less and less hardware. Now, there really is software defined storage."
On the rack 
 Past coverage of OCP has concentrated on its definition of a 21 in rack, and then accepting a more traditional 19 in alternative. This year, those two concepts are coexisting more smoothly, said Taylor, with products becoming available in both sizes, and racks adapting to accommodate both widths. 
Finally OCP will also be the source of advances in storage, said Taylor, because it allows for the kind of flexibility needed to adjust to disruptive changes such as the arrival of flash in the data center.
"It has been a hell of a four to five years," he said, " but OCP has been one of the communities that has figured out how to use flash in the data center, and where believe hard drives need to go to, in order to support the workloads of the next few years." 
While the OCP doesn't know the next killer products to arrive, it does know the basic constraints under which they will operate, and how they will be built, he said: "We are the community that can understand how we are going to operate on these constraints, and change them over time."