Oversea-Chinese Banking Corporation (OCBC) has officially opened its SG$240m (US$182.5m) data center, designed to meet the regional business requirements of OCBC Group across 18 countries.
The facility has been operational since Q3 of 2017, after a successful migration from an old data center that was reportedly one-third the size.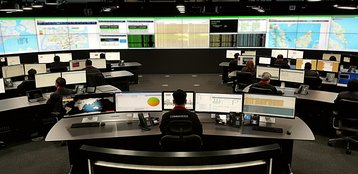 First purpose-built facility
OCBC has touted the facility as the first purpose-built data center to be owned by a Singapore-based bank. The new six-story building sits on a land area of 0.5 hectares, with a built-up floor area of 134,500 square feet. According to industry sources, the site is located in the Eastern part of Singapore.
The data center has been awarded the BCA-IMDA Green Mark Platinum Award and OCBC claims it is 30 percent more energy-efficient than "standard data centers in Southeast Asia."
While no PUE number was provided, the press release mentions the use of diesel rotary uninterruptible power supply (DRUPS) systems, and the bank says it will save SG$500,000 in annual costs from increased energy efficiency.
The data center is the first in Southeast Asia to feature a technology command center, to monitor and manage both cyber security and day-to-day operations of the core IT systems. OCBC says this allow for faster and more seamless coordination in times of crisis.
Hybrid cloud
Why build its own facility from scratch, when even cloud and tech juggernauts such as Alibaba and Facebook have opted for colocation facilities in Singapore? OCBC says having its own data center gives it absolute security and physical access control, while also eliminating the risk of of space or capacity shortages.
The new data center is cloud-enabled and is designed to support the organization's move towards hybrid cloud deployments. This focus on a hybrid cloud approach mirrors that of DBS, which told DCD last year that it has created a hybrid cloud environment and later launched a data center in partnership with Equinix for its private cloud in November.
"As the data center is a critical and core facility for any bank, we wanted a dedicated data center owned by us and not one that is leased. This is to ensure we can have full control over its security and design – so that it is completely tailored to our exact requirements," said OCBC head of group operations and technology, Lim Khiang Tong.
"We therefore embarked on a four-year journey to develop our purpose-built data center from ground up – being the first Singapore bank to do so. Putting together some of the most advanced security features, cutting-edge technologies and modern facilities was not good enough for us."
OCBC says that the data center is designed to support its operational requirements for 30 years. In response to a query from DCD, an OCBC spokesperson explained that the facility was designed for future capacity growth from power, cooling and space perspectives: "Our data halls are set up in a modular design, where each data hall is supported by separate mechanical and engineering infrastructure, giving us the flexibility to reconfigure or add additional capacity whenever the needs arises without impacting other parts of the data centre."
Updated on 22 March with comments from OCBC.