Pan-African operator Open Access Data Centres (OADC) is expanding its data center in Johannesburg, South Africa.
Local press reports the company has begun work on phase two expansion of its Isando facility, which is expected to be complete in Q1 2024, adding 4MW and 600 racks.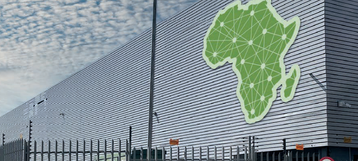 Launched in December 2022, JNB1 currently has up to 1,600 sqm (17,200 sq ft) of IT white space and up to 7MW of site load. The first phase of the site is reportedly 90 percent leased.
The company has said the site offers potential expansion capacity of up to 3,000 sqm (32,300 sq ft) and 15MW.
"It has been an incredible year and the traction we have obtained in the initial phase of this development has been such that the majority of the data center is already occupied," said Darren Bedford, group chief business development officer at OADC parent, WIOCC Group.
"Such has been the massive demand from customers of all sizes for additional access, that we have rapidly progressed the development of the second phase."
In November 2021, WIOCC (West Indian Ocean Cable Company) announced it had raised $200 million to launch a new pan-African data center network known as Open Access Data Centres. OADC later said it planned to invest $500 million over the next five years.
OADC has data centers in operation and development in Lagos, Nigeria; Kinasha, DRC; and four in South Africa across Johannesburg, Durban, and Cape Town (x2). The company is also rolling out dozens of Edge sites across South Africa.
OADC has said it plans facilities in up to 20 countries across Africa, including; Accra, Ghana; Abidjan, Cote d'Ivoire; and Mombasa & Nairobi, Kenya. It has previously announced plans for a site in Mogadishu, Somalia.
Formed in 2008, African wholesale network firm WIOCC is part of consortiums for the EASSy, EIG, WACS, TE North, SEA-ME-WE 5, and the Facebook-led 2Africa cable systems.
WIOCC recently launched a new managed network and infrastructure services company, known as Open Access Technical Services (OATS).
More in Construction & Site Selection