New York University Abu Dhabi will build a data center in the UAE for archiving and processing scientific datasets obtained during space missions. 
Work on the 'National Data Center' will start next year, with the facility designed to have "relevant capacity" for facilitating pre-launch studies associated with Transiting Exoplanet Survey Satellite (launch in 2018), Solar Orbiter (launch 2019) and the Emirates Mars Mission (launch 2020).
Local storage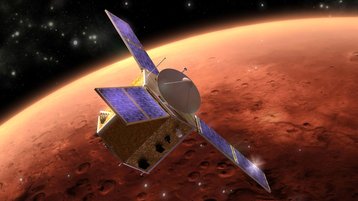 The Hope, a spacecraft of the Emirates Mars Mission, aims to reach the Red Planet in 2021, to coincide with the 50th anniversary of the founding of the UAE.
A longer term goal is for the facility to help with preparation for the PLATO mission, which was approved by the European Space Agency in June 2017 and will be launched in 2026.
The Planetary Transits and Oscillations of stars (PLATO) payload will feature 26 telescopes that scour the skies for habitable exoplanets. Like in most space missions, its data will be publicly available from multiple data centers, but the NYUAD facility aims to allow for local storage and processing. 
"Space science cannot proceed forward without high-quality measurements," Shravan Hanasoge, co-principal investigator at the NYUAD Center for Space Science, said.
"The data taken by billion-dollar space-based observatories can be used to make important scientific contributions. We hope that the ease of access to this data in the UAE will significantly boost space science research in the region."
The Center for Space Science will also hold periodic workshops to teach researchers how to access and use the database.