Dutch venture NxtVn is planning to develop a large data center park in Virginia Beach that would take advantage of the transatlantic network cables that land in the region.
NxtVn does not build data centers – instead the company hopes to provide space, networking and power for prospective infrastructure developers.
According to The Virginian Pilot, the first phase of the project near Corporate Landing Business Park could start by the end of the year and include roughly 1.4 million square feet of real estate.
The campus could eventually grow to become one of the largest on the East Coast.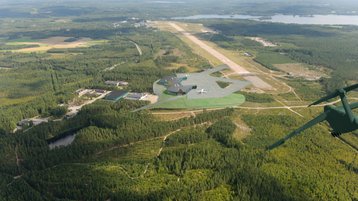 High hopes

NxtVn was established in 2013 with a vision of creating a worldwide network of interconnected data center parks. The company has already started developing a site in Halli, Finland, as well as one in Eemshaven, the Netherlands – however the information on the progress of individual projects is not readily available, with the website currently 'under construction'.
Now, NxtVn plans a new hub just off General Booth Boulevard in Virginia Beach. The project would see the company lease out space to data center owners, with NxtVn handling all aspects of licensing, permitting and zoning.
The campus would benefit from proximity to several submarine cable landing stations, like the BRUSA cable system linking Virginia to Rio de Janeiro and Fortaleza in Brazil, and the MAREA cable system landing in Bilbao, Spain. The latter will become the Atlantic's highest capacity cable when it comes into operation later this year.
According to The Pilot, NxtVn also plans to invest in the upcoming Midgardsormen [World Serpent] cable, which would connect Virginia Beach to Eemshaven, and could come into operation in the second quarter of 2019.
NxtVn is not the first company to explore this data center construction model: similar projects include the Node Pole and Stockholm Data Parks in Sweden.